Turks deprived of TV turn to Twitter for protest news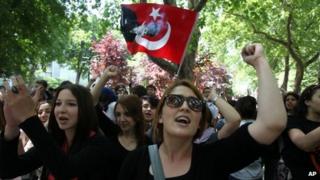 Turks have turned to social media to fill the gaps left by TV stations over the past few days of anti-government demonstrations, and to show their support for the protesters.
Prime Minister Recep Tayyip Erdogan has taken dim view of this development. ''There is now a menace which is called Twitter," he said. "The best examples of lies can be found there. To me, social media is the worst menace to society.''
The main TV networks, which normally cover all major events almost instantly, have been mostly silent about the protests, prompting audiences to seek alternatives.
Messages of support and striking images of protesters, such as a young woman with slogans written on her naked chest, have been widely circulated on Facebook.
It isn't only protesters who have been using the social media. Apparently ordinary citizens have also used the platforms to express their opinions about the protests.
'X-ray'
Turkey has one of the fastest-growing populations of social media users in the world, with a 300% increase in usage in recent years.
A columnist for the daily paper Milliyet and a leading TV figure, Taha Akyol, told CNN Turk: ''There are many who spread hatred and lies through social media, but there are as many ordinary citizens who express their sentiments and views through it. Social media is the voice of pluralism. If we accept modernity and democracy, we have to accept social media.
''We have to view social media like an X-ray. We should approach it like a sociologist to find out what is causing discomfort and unease in society,'' said Mr Akyol, in what some see as a direct criticism of the prime minister's attack on Twitter.
The underreporting of events could due to the speed at which the protests erupted and their unexpected scale. Large sections of the public and the media - familiar with demonstrations and small-scale clashes between security forces and protesters - were taken aback.
However, a more likely reason for the lack of TV coverage is the ownership of the media, their political allegiances and their relationship with the government.
Business interests?
A large section of Turkey's media shies away from clashing with the government or actively supports it, to the extent that it has come to be known among Turks by the label "pro-media".
Their motives for doing so are varied. Some outlets - such as Islamic TV channels Kanal 7, Samanyolu TV and Ulke TV and the Islamic daily Yeni Safak - simply have a strong ideological affinity with Mr Erdogan's Islamist-leaning AK Party.
The owners of the private channel 24 TV - which has taken a strongly critical line towards the protesters - are known to be personally close to the prime minister.
But most mainstream media outlets - such as TV news channels HaberTurk and NTV, and the major centrist daily Milliyet - are loth to irritate the government because their owners' business interests at times rely on government support. All of these have tended to steer clear of covering the demonstrations.
There are exceptions, however. CNN Turk - owned by the Dogan media group - and the little-known Halk TV - a mouthpiece of the opposition People's Republican Party's (CHP) - are seen to have provided more coverage than the state-owned stations.
Halk TV in particular has provided continuous coverage, often with TV pictures from scenes of protest.
BBC Monitoring reports and analyses news from TV, radio, web and print media around the world. For more reports from BBC Monitoring, click here. You can follow BBC Monitoring on Twitter and Facebook.