Election setback for Grillo protest party in Italy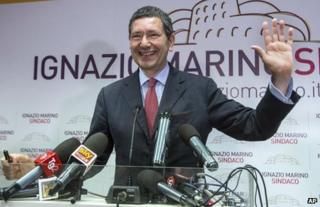 Italy's Five Star Movement, the protest party which rocked the establishment at national polls this year, has fared badly at local elections.
It failed to win any of more than 500 mayoral races, or make it into run-off votes in any big cities.
In February the party, led by charismatic former comedian Beppe Grillo, won a quarter of the vote.
The centre-left Democratic Party of Prime Minister Enrico Letta appears to have done best.
In Rome - the most-watched race - its candidate Ignazio Marino won 43%, against 32% for the sitting mayor, Gianni Alemanno of Silvio Berlusconi's centre-right People of Freedom party.
The two men will now go into the run-off over the weekend of 9-10 June.
The Five Star candidate in Rome won only 12% of the vote.
Turnout was about 62% - low by Italian standards.
Mr Letta is leading a fragile coalition with Mr Berlusconi's party as the country, the third-biggest economy in the eurozone, experiences its longest recession in more than 40 years.
Five Star did not make it into run-offs in any of the 16 provincial capitals being contested although they it appears they will go to a second round in at least three small towns around the country.
Mr Grillo, a prolific blogger, went online to say he "understood" the voters and his party had made "mistakes".
"The Five Star Movement has made mistakes, who knows how many, but it has been the only one in the history of the Republic to give back 42m euros [£36m; $54m] to the state [in electoral reimbursements], to cut the salaries of MPs and to give three-quarters of the salary of council members in Sicily to small businesses," he wrote.
He added that the party had doubled its representation in town councils.
With its contempt for the nation's traditional parties, Five Star attracted support in February from the many Italians who are sick of what they regard as their corrupt and failing political establishment, the BBC's Alan Johnston reports from Rome.
Its opponents will hope that these results mark a turning point: a first sign that the movement has lost its momentum, that it has failed to capitalise on its success and that its appeal is already ebbing away, our correspondent says.