Dutch volleyball's Visser killed in Spain 'over business'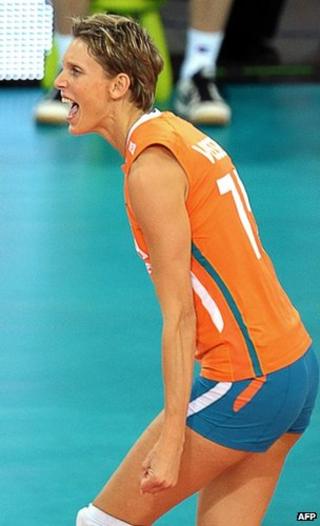 Spanish police believe the murders of former Dutch volleyball star Ingrid Visser and her partner in south-eastern Spain may have been business-related.
Their bodies were found in a shallow grave in a lemon grove, two weeks after they disappeared in the region.
An ex-director of a Spanish volleyball club is among three people arrested.
Murcia's police chief told reporters there appeared to have been a business disagreement between the couple and the suspects.
Ms Visser, 35, disappeared along with her partner Lodewijk Severein, 57, on 13 May, shortly after after checking into a hotel in the city of Murcia.
They were supposed to meet a doctor the next day, but failed to turn up, and the authorities were alerted. Their rental car was found on a city street more than a week later.
Volunteers plastered the walls of the city with posters appealing for information about the missing couple.
The search dominated the Dutch media. Ms Visser was a popular player, who held the record for the number of appearances for the national side, the BBC's Anna Holligan reports from The Hague.
The couple's bodies were found in a grove on Sunday evening, a day after police arrested the suspects in the city of Valencia, to the north.
Their investigation led them to a house in Molina de Segura, a town outside Murcia, and the shallow grave nearby.
One of the suspects was named by Spanish media as Juan Cuenca Lorente, 36, former director of Murcia's volleyball team. Ms Visser played for the team from 2009 to 2011.
The other two suspects are Romanian men.
Murcia's chief of police, Cyril Duran, told reporters that there had been "certain business disagreements" between the murdered couple and the three men under arrest, the local newspaper La Opinion de Murcia reports.
No details of the disagreements were given, the national daily El Pais reports.