Pussy Riot member Maria Alyokhina denied parole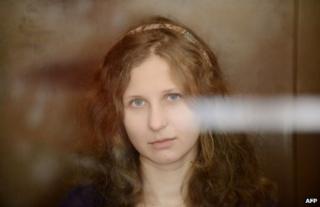 A Russian court has denied parole to a member of punk band Pussy Riot who has begun a hunger strike in jail.
The court in Berezniki accepted claims that Maria Alyokhina had systematically disobeyed prison authorities and failed to repent for her crime, Russian media reported.
Last month, fellow band member Nadezhda Tolokonnikova was also denied parole.
Internationally famous musicians including Paul McCartney had been among those calling for them to be freed.
The women were jailed for two years in August for breaching public order motivated by religious hatred.
"This looked not like a court hearing but like arm-twisting," Alyokhina's mother Natalia told Svoboda Radio, which carried a live web video feed from the court.
"Clearly the court was not interested in the character of the convict, because the decision was likely made in advance," she added.
Alyokhina announced a hunger strike on Wednesday after being refused the right to attend her own parole hearing.
She also ordered her lawyer to boycott the hearing.
'Watched by the world'
Musicians including Paul McCartney and Peter Gabriel had urged the courts to free Alyokhina and Tolokonnikova.
Paul McCartney sent Alyokhina a handwritten letter in her support ahead of the parole hearing.
"I believe that you granting this request would send a very positive message to all the people who have followed this case," the letter said.
"My personal belief is that further incarceration for Maria will be harmful for her and the situation as a whole, which, of course, is being watched by people all over the world," it added.
They band performed an obscenity-laced "punk prayer" at Moscow's main cathedral in 2012, in protest against Vladimir Putin during his re-election campaign.
An appeals court suspended the sentence of a third band member, Yekaterina Samutsevich, in October, but upheld the jail terms for Tolokonnikova and Alyokhina.
Tolokonnikova was allowed to attend her hearing on 26 April in the town of Zubova Polyana in Russia's Mordovia region.
The prosecution of the band members last year drew condemnation worldwide.