French court questions IMF chief Christine Lagarde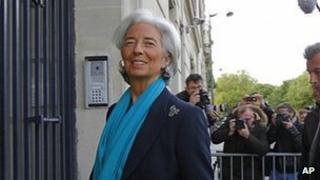 French judges in Paris have questioned IMF chief Christine Lagarde over a controversial payout made to a tycoon when she was finance minister.
She has been asked to explain her handling of a dispute in 2007 which resulted in some 400m euros (£342m; $516m) being paid to Bernard Tapie.
Ms Lagarde insists the award was the best solution at the time.
She has now left the court, which investigates ministerial misconduct, with no immediate decision announced.
The IMF chief departed the Court of Justice of the Republic shortly after 19:00 GMT, telling reporters "until tomorrow".
She could be placed under formal investigation for the decision to use arbitration, against advice from senior advisers, to settle a long-running court battle between the state and Mr Tapie, a supporter of the then French President, Nicolas Sarkozy.
Financial probity examined
Mr Tapie won a much bigger payout than he might have expected in court.
The case stretches back to 1993 when Mr Tapie, a colourful, controversial character in the French business world, sold his stake in sports company Adidas to Credit Lyonnais.
Soon after the bank sold on that stake for a much bigger profit, Mr Tapie claimed they had defrauded him.
In 2007, President Sarkozy suggested the finance ministry - which had been overseeing the dispute and was led by Ms Lagarde - should move the case to arbitration.
Ms Lagarde is not accused of profiting from the payout, but she is being questioned over the alleged misuse of public funds.
If she is placed under formal investigation it is of course embarrassing, the BBC's Christian Fraser reports from Paris. It is a step closer to trial but does not necessarily mean the case will end up in court, he says.
Tapie relaxed
Speaking on French Europe 1 radio, Mr Tapie said he was "not at all worried" about the investigation.
"When arbitration is conducted it is done according to the rules," he said. "If there had been something questionable, it would have been known a long time ago."
Ms Lagarde is still one of the most popular politicians on the right in France. And after the scandal that toppled the last IMF chief, Dominique Strauss-Kahn, few in France want to see another prominent French politician embarrassed on the world stage, our correspondent says.
Mr Strauss-Kahn resigned in 2011 after a New York hotel maid accused him of sexual assault. Charges were later dropped.
Some on the right wonder whether Ms Lagarde could be a future candidate for first female French president, notably because she has stayed outside the conservative UMP party's vicious in-fighting.
Ms Lagarde, a perfect English speaker, has never expressed a desire to run for president. But her five-year term at the IMF is due to finish in 2016 - a year before the next presidential election. With her acumen she may be a dangerous opponent for President Francois Hollande.