France reacts to Dominique Venner's shock 'gesture'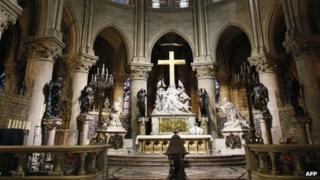 "I think I need to sacrifice myself to break the lethargy that overwhelms us" - the parting words of Dominique Venner, a French far-right historian who shot himself on Tuesday afternoon, beside the altar of Notre Dame.
In his letter, read by a close friend on a Catholic radio station, he said it was an act in "defence of the traditional family" and in the "fight against illegal immigration".
The leader of the far-right National Front, Marine Le Pen, described it as an "eminently political gesture" from a man seeking to "re-awaken" his countrymen.
Mr Venner had a long history in far-right politics. He was jailed for his fascist sympathies in the early 60s, then a member of the Secret Army Organisation that opposed Algerian independence.
More recently he has been an outspoken critic of the government's bill on same sex marriage, which President Francois Hollande signed into law this weekend.
The 78-year-old said the bill was "vile".
"New spectacular and symbolic actions are needed.." he wrote, "...to shake the anaesthetised consciousness. We are entering a time when acts must follow words."
But how will this "gesture" be interpreted in France?
Last night some 30 protestors from the far-right paid tribute to Mr Venner outside Notre-Dame, as bishops prayed for him inside.
Note on the altar
Anders Breivik, the perpetrator of the 2011 Norway attacks, espoused a rhetoric similar to Mr Venner's; both wrote about immigration and the threat to European civilisation.
But few on the extreme right ever condoned the manner in which Breivik sought to stir nationalist consciousness. How could they?
Mr Venner chose a different way, violent yes - but confined - and as such it is perhaps easier for some on the extreme right to salute him as a martyr.
"I hope the French and European youth will see your sacrifice as a great call to revolution," wrote Aymeric Chauprade, on the far-right newsblog, Nouvelles de France. "I have heard your call Dominique, I plan to make equally strong choices in the future!"
But others were more circumspect.
"It was a desperate act as much as a political one," said one who knew him. "Dominique Venner knew he was going to die from a long and painful illness, he wanted to give meaning to his death."
The 78-year-old was not a religious man. The rector of Notre-Dame said he didn't know him as a member of his congregation. (He's not the first to commit suicide inside the cathedral - in 1931 a young Mexican intellectual shot himself through the heart.)
Mr Venner chose it for a good reason. It is the most visited monument in France - some 1,500 people were inside at the time - and is also the most venerated.
He laid his suicide note on the main altar, highly symbolic for those supporting traditional marriage between man and woman.
'Last second'
The timing was also significant. This weekend thousands are expected to rally in Paris against the gay marriage bill.
Though if Mr Venner expected to inspire those who will march on Sunday, perhaps he overlooked two key issues.
First, Manif Pour Tous, as it's known - though not a Catholic movement - is inspired by Church teaching. They are pro-life.
The standard bearer for the protest, comedienne and commentator Virginie Merle - who goes by the pseudonym Frigide Barjot - said she abhorred the "gesture".
"I am sad to see that people have so badly understood our message," she tweeted.
Many of those who support her in Catholic circles believe suicide is a sin.
Secondly, the French already feel more than a little uncomfortable about suicide in public places.
On Thursday, a man entered the courtyard of a private Roman Catholic school in the upscale seventh arrondissement of Paris and committed suicide with a sawn-off shotgun - shooting himself in the head in front of a dozen young children.
The man's motive remained unclear but police did say the 50-year-old had suffered from mental illness.
There's no suggestion Mr Venner was mentally unstable - but his suicide will divide opinion in France.
The minority will say it demonstrates the immense strength of feeling - and anger - that Mr Hollande's bill has generated.
But the overwhelming majority see it only as the meaningless sign-off of a man at his wits' end, arrogant and obsessed by his own beliefs.
The blog he wrote suggests Mr Venner was a man desperate to give meaning and purpose to the final few months of his life.
"It is here and now that you have to play out your destiny," he wrote, "...until the last second.
"This last second has as much importance as the rest of our life. It is why we must remain true to ourselves right up to the final moment."