Icelanders to get a referendum on joining the EU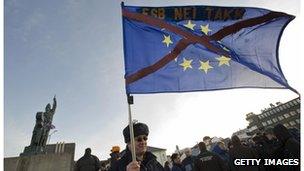 Iceland's newly elected government has called off talks with Brussels on EU membership and promised a referendum to give Icelanders their say.
Iceland applied to join the European Union in July 2009, a year after it suffered one of Europe's worst financial crises.
Negotiations began nearly three years ago, but big sticking points remain.
Opinion polls suggest most Icelanders are now against joining. Centre-left parties lost last month's election.
The two parties that emerged as winners - the centrist Progressive Party and the right-wing Independence Party - announced on Wednesday that they had agreed to form a government.
They also promised to freeze talks with Brussels until after the result of a referendum on EU membership.
Iceland has made a striking recovery since its main banks collapsed in 2008.
Because it has never been part of the eurozone, the island was able to preserve the value of its exports by devaluing its currency.
Fish and fish products account for more than 70% of those exports and fishing rights remain the most contentious issue in EU membership negotiations.
Many Icelanders fear their monopoly on fishing waters around the island will be eroded by demands from Brussels to allow access to foreign boats.