Russian cult film director Alexei Balabanov dies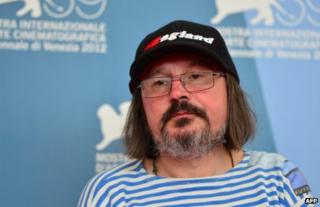 Alexei Balabanov, the Russian director whose gritty crime films caught the wildness of Russia's early post-Soviet years, has died at the age of 54.
Russian media, quoting his family, say he suffered a seizure and did not recover consciousness at a sanatorium near St Petersburg.
Balabanov made 16 films over nearly a quarter of a century.
Crime films such as the Brother series, and the Chechnya action film War, became cult favourites in Russia.
Russian Prime Minister Dmitry Medvedev went on Facebook to send his condolences, writing: "The films of Alexei Balabanov were a collective portrait of the country in the most dramatic periods of its history."
The 2005 gangster film Zhmurki (Dead Man's Bluff) brought together some of the country's most distinguished actors, including Nikita Mikhalkov, almost unrecognisable in his raspberry-coloured sports coat as a hoodlum.
Balabanov, who was working on a new script, had been unwell for some time, a friend of the director told Russian media. The exact cause of his death was not immediately reported.
While he inspired a cult following in Russia, he was not widely known outside the former USSR.
Russian cinema critic Olga Sherwood told BBC Russian: "A truly unique director has passed away. There can be no doubt about that. There were only a handful like him in the cinema world."
Tributes have flowed in from around the Russian-speaking world for the director, whose themes, including Russian nationalism, were at times controversial.
Mikhail Trofimov, film critic for Russian business newspaper Kommersant, described him as the "best Russian director of the past two decades".