Detective Garda Adrian Donohoe's family receive medal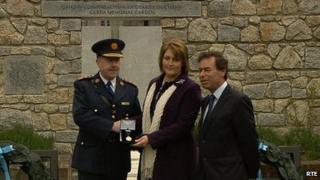 The family of a police officer who was murdered during a robbery in the Irish Republic earlier this year have received a special medal in his honour.
Detective Garda Adrian Donohoe was shot dead during the robbery at Lordship Credit Union, County Louth, in January.
It is believed his killers fled across the border to Northern Ireland after the murder.
The officer's widow and two children were presented with the medal during a ceremony in Dublin Castle on Saturday.
The presentation was made by the Irish Minister for Justice, Alan Shatter, during the annual Garda Memorial Day commemoration.
'Unspeakable crime'
Det Garda Donohoe's name was added to the Garda roll of honour and his widow, Caroline, accepted the Remembrance Medal on his behalf.
In his address, Mr Shatter said: "The brutal murder of Adrian Donohoe was an unspeakable crime and life-changing for his family.
"The addition of Adrian's name to this roll of honour brings to 87 the number of members who have been killed in the line of duty. It is 87 too many.
"The minister added: "The government have expressed their revulsion and deep sadness and I wish on their behalf and on my own behalf to extend again my condolences to his family and to all members of An Garda Síochána (Irish police)."
Garda commissioner Martin Callinan said Adrian Donohoe's murder was "still very raw in our memory and rests very heavy in our hearts".
"It is at difficult times such as this that we experience the true meaning of the extended police family through the unending support and overwhelming solidarity offered," he said.
Det Garda Donohoe, 41, was the first member of the police force to be shot dead while on duty since 1996.
The getaway car used by the robbery gang was found burnt out in a forest near Keady, County Armagh, days after the murder.
Police on both sides of the border have carried out searches and have issued a number of appeals for information.