Main party in Bulgaria seeks to void election result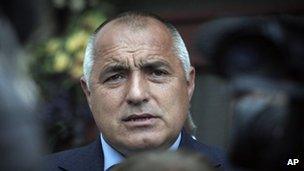 Bulgaria's biggest political party has said it will seek to have the result of Sunday's deadlocked election cancelled on the grounds of a legal violation.
Ex-Prime Minister Boiko Borisov said his centre-right Gerb party's chances had been damaged by comments from other parties on the eve of the polls.
The parties broke campaign silence over news of illegal ballots being found at a printing shop linked to Gerb.
Consultations on forming a coalition are due to begin on Friday.
But analysts see little hope of forming a stable coalition to lead the EU's poorest state.
Gerb, which resigned from power in February amid street protests against corruption and poverty, won a narrow lead in the popular vote of 30.5%, followed by its Socialist rival, the BSP, on 26.6% of the vote.
Only two other parties passed the 4% threshold needed to enter parliament - the ethnic Turkish party Movement for Rights and Freedoms (MRF) won 11.3%, and the ultra-nationalist Ataka took 7.3%.
A possible deal between the BSP and the MRF would probably still need the support of Ataka.
Mr Borisov said he would try to form a minority government if his appeal to have the election result cancelled failed.
International observers say the vote was generally well run but that scandals and fraud allegations had eroded trust in state institutions.
On Saturday, prosecutors announced they had raided a printing shop and found 350,000 illegally printed ballots in a printing house owned by a Gerb official.
Mr Borisov, who denies wrongdoing or involvement in the affair, argued on Thursday that his party's chances had been hurt by news conferences held by other parties in relation to the raid on Saturday, when by law electoral campaigning must stop.
Speaking in his first public appearance since the vote, Mr Borisov said his party would ask the constitutional court to cancel the election results.
"For the first time in Bulgaria's history maybe, the party that won the elections will challenge their results," he told reports in the capital, Sofia.
"The motive is grave violations of the regulations. The best is to go for new elections."
The former prime minister himself ruled out any viable coalition deal among the parties.
"In the current configuration with four political parties in parliament, a stable government cannot be formed," he said.
"It is absolutely not serious to talk about a consensus cabinet."
On Wednesday, Bulgarian President Rosen Plevneliev appealed to political leaders to work towards forming a stable government to tackle the country's economic crisis.
Key tasks for the next government include negotiating EU funds for the next seven years, drafting the 2014 budget and trying to address popular anger over poor living conditions and high power prices.