French recession: Farms feeling the pinch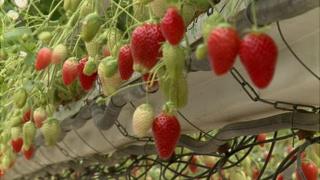 A year after French President Francois Hollande was elected, promising growth and jobs, the economy has slipped back into recession. As the BBC's Christian Fraser reports, economic problems are affecting rural workers as much as those in the city.
The Lot-et-Garonne region is home to the largest organic farming area in France, and at this time of year the fields are blooming.
But as in other regions, the local economy is withering in the face of the punishing eurozone crisis.
Patrick Jouy, an industrial strawberry farmer, has seen few of the benefits Mr Hollande promised a year ago.
Many of his pickers are Poles; others are Spaniards and the Portuguese, exiles from Europe's struggling economies.
Youth unemployment is 17% in the Lot, higher than the national average.
But French people are reluctant to take seasonal work, and Mr Jouy says he cannot risk giving out more expensive permanent contracts, particularly when France is in recession.
"It's been far more difficult under Mr Hollande," he says.
"Our consumers have less money in their pockets, they are not buying strawberries, and we the employers are paying more and more in social charges. And now even overtime is taxed."
The speciality of the region is plums. And the added value comes from prunes.
At Coufidou, a farming co-operative in Saint-Livrade-sur-Lot, they produce exquisite sugared and chocolate-coated prunes. They sell to Fortnum and Mason and the French luxury market.
But government figures show the sharpest decline in French spending power since 1984. And like most others, the farmers have been forced to adapt.
"Of course with the crisis, like everyone else, we have had to cut prices and search for new markets," says sales manager Semira Baffou.
"And yes we too have to think about our labour costs. It's difficult. Prunes are not like milk or potatoes, in lean times people can go without the luxuries."
In neighbouring Villeneuve-sur-Lot, politics and the economy collide. The constituency belonged to Mr Hollande's former budget minister, Jerome Cahuzac, who resigned last month in disgrace after it was revealed he had stashed a fortune in a Swiss bank.
There is a by-election next month, an acid test for the beleaguered Socialist government.
The economic figures will compound the misery.
"Yes we worry about the recession," said Juliette Cazabat a fashion designer who was shopping in the local organic market.
"We have to support our local producers and encourage them to grow."
New currency
In recession people are turning against the euro, globalisation and the import of cheap foreign products.
In Villeneuve they have created their own currency. It is called the Abeille. One Abeille equals one euro. But it can only be spent on local produce and services.
It is 20 euros to be a member, but it is a non-profit initiative and any money raised is ploughed back into helping local businesses.
"We have 150 families who are using it," said Nicolas Queyreau, vice president of the Abeille group.
"And an increasing number of traders. You can pay for your haircut, you can eat in restaurants, and of course you can do your weekly shop. It creates a connection, a relationship between the consumer and their local producers."
The Socialist candidate, Bernard Barrel, who will run in the forthcoming election, is all about supporting local employers.
But on a visit to the town of Fumel and Metaltemple, a truck components factory, where shifts has been halved in recent months, he concedes it is not the best time to run for the governing party.
"But we do believe in the programme Mr Hollande has set out. He has implemented 40 of the 60 new initiative he set out," he says.
"This is only the first year. The effects are yet to be felt - but they will be."
They have time in the Lot, it is a slower pace of life, but all the problems France is accumulating are flowing into the region.
Suddenly recession threatens their cherished quality of life. Restoring it is the government's challenge, and not just for the people of the Lot-et-Garonne.