Turkish media review: Reyhanli bombing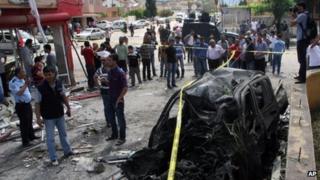 Turkish press commentators have reacted with concern after two car bombs killed at least 46 people and injured many others in the town of Reyhanli, close to the Syrian border, on 11 May.
Television news channels NTV and CNNTurk feature the story at the top of their news bulletins, with reporters broadcasting live from Reyhanli. Prime Minister Recep Tayyip Erdogan's statement that Turkey will not allow itself to be dragged into the Syria conflict also features in the morning news.
In the print and internet media, commentators say the attacks should top the agenda of Mr Erdogan's meeting with President Barack Obama in Washington this week. Some believe he should use the meeting to press President Obama to act on Syria.
Others warn that similar bloody incidents are likely to occur in Turkey again.
Mehmet Tezkan in centrist Milliyet
Look at the pictures coming from Reyhanli carefully... Is it not like Iraq? Is it not like Syria?... Reyhanli is not something that can be passed over... Reyhanli is a tipping point.
Asli Aydintasbas in Milliyet
For Ankara, the Bashar al-Assad regime, which has committed four attacks against Turkey including Reyhanli, is now an open and clear "national security threat"… In Washington this week, Ankara, which has willy-nilly become a party to the conflict through supporting the opposition in Syria, will tell its closest ally, the US, that "the time to do something has already come".
Ali H Aslan in pro-government Zaman
It is certain that Syria will be the hottest negotiation issue at Thursday's White House summit. The Reyhanli attacks will push the issue to the forefront… Ankara's target is to make its financial and moral losses felt more acutely in Washington and to persuade the Obama Administration to change its non-involvement stance.
Taha Akyol in centre-right Hurriyet
Syria is exporting war to Turkey, not only in the form of Middle Eastern terror but also its ethnic and religious clashes. The picture of violence and destruction in Reyhanli on Saturday was a repetition of those in Syria, Iraq and Lebanon... The key is to be calm and not rise to provocation.
Cengiz Candar in centre-left Radikal
How will Syria respond without losing its cool and acting as if provoked, especially after being identified as the perpetrator of Reyhanli? I don't think anyone knows. As Damascus does not know either, it is unfortunately possible that Reyhanli-like incidents may be repeated.
Semih Idiz in leftist Taraf
As sectarian clashes have begun between our Turkish citizens and the Syrian refugees, it is apparent that our Syria policy must immediately be reconsidered. But the statements of Prime Minister Erdogan and Foreign Minister Davutoglu show that this will not happen. One can but think that "we must be ready for more bloody incidents".
BBC Monitoring reports and analyses news from TV, radio, web and print media around the world. For more reports from BBC Monitoring, click here. You can follow BBC Monitoring on Twitter and Facebook.