Phil Lynott statue is vandalised in Dublin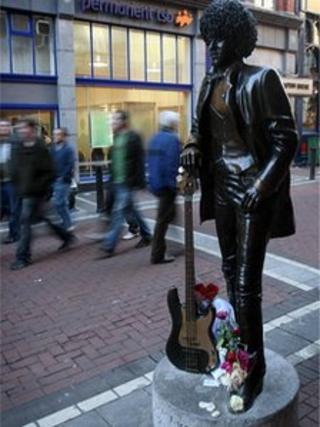 A statue of the Irish rock star, Phil Lynott, has been knocked over and badly damaged in Dublin city centre.
The bronze sculpture of the former Thin Lizzy frontman was erected just off Grafton St in 2005, almost 20 years after his death.
It was pushed over on Harry St during the early hours of Friday morning.
Just hours after a police appeal for witnesses to the vandalism, two men handed themselves in at a Dublin police station where they were both arrested.
The men, who are both in their 20s, presented themselves at Pearse St station on Friday evening.
They have since been released without charge and a file is being prepared for the Irish Director of Public Prosecutions.
Founding member
The statue was vandalised at about 04:15 BST.
Shortly afterwards, a group of people in the area lifted the damaged sculpture and placed it back on its mount.
It has since been removed for repairs.
The bronze sculpture was unveiled in August 2005 by the singer's mother Philomena Lynott.
Her rock star son was born in Birmingham in 1949, but was brought up in the Crumlin area of Dublin.
He was a founding member of Thin Lizzy, setting up the band in 1969 with his Dublin schoolmate Brian Downey.
They recorded 12 studio albums between 1969 and 1983 and are best known for the songs such as Whiskey in the Jar and The Boys Are Back in Town.
The charismatic lead singer died from heart failure in January 1986 after years of battling alcohol and drug addiction.
In 2011, a major exhibition on Phil Lynott's life and career opened in Dublin to mark the 25th anniversary of his death.