Bulgaria election: Resisting the radicals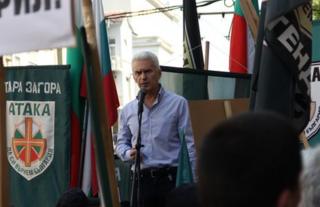 Since a wave of protests brought down the government of Boiko Borisov in February this year smaller, more nationalistic parties have gained from Bulgaria's power vacuum and popular disgruntlement.
Outside the Turkish embassy a group of around 100 people chant "Attack!"
It is not an instruction to storm the embassy, at least not yet.
Rather it is the name of their party - "Ataka" in Bulgarian - and a rallying call for their leader, Volen Siderov.
The white-haired politician has risen to prominence in recent years, first as the host of a populist TV show, now as the head of the nationalist party.
Standing on the podium, he lambasts the Turkish government for what he says are claims that impinge on Bulgaria's sovereignty.
Ethnic Turks account for around 10% of Bulgaria's population, more than a century after it ceased to be part of the Ottoman Empire.
I ask one of the supporters whether he really feels Turkey poses a military threat to Bulgaria.
"The Turkish government is following the so-called neo-Ottoman ideology to restore the Ottoman empire," says the young man. "We are here to defend the integrity and sovereignty of Bulgaria."
Their protest, however, is more than just an anti-Turkish one.
'Less than Africa'
In his speech to the crowd of supporters, Mr Siderov also mentions the country's membership of the European Union and accuses foreign businesses of dampening Bulgarian wages - points I take up with another Ataka supporter, Harry.
"Economically speaking, Bulgaria is in a total mess," he says.
"The foreign companies use cheap labour here. The wages here are even less than Africa, which is a shame. It's a misery here."
Although the protest is small - opinion polls suggest Ataka may only win around 5% of the vote - the views expressed are a useful barometer of public opinion here.
After the mass protests in February which toppled the government of Mr Borisov, Ataka has gained in the polls, capitalising on people's frustrations.
In Greece and Hungary similar anger at austerity has boosted support for their own brands of far-right parties, Golden Dawn and Jobbik.
Whereas in those countries it is immigrants who are the target, in Bulgaria Ataka takes issue with perceived criminality perpetrated by the country's poorest ethnic minority group, the Roma, who are thought to account for about 10% of Bulgaria's population.
But it reserves its greatest contempt for those it blames for economic stagnation.
Frustration
After four years of a Socialist government (2005-2009) and four years under Mr Borisov's centre-right administration (2009-2013) people are frustrated by Bulgaria's anaemic growth and the lowest wages in the EU.
It is a point I make to Mr Borisov who, having resigned during mass protests in February, is now seeking a second term.
He simply shrugs off the competition from Ataka.
"That's democracy," he says.
"Everywhere I go in this election the squares are filled with crowds of people who love me. They know that in three-and-a-half years we couldn't solve all the problems in the country. And, yes there were some mistakes."
Yet Mr Borisov's popularity has been dealt a severe blow by a string of corruption allegations.
Since my interview with him, prosecutors have accused his former Interior Minister, Tsvetan Tsvetanov, of allowing employees in his ministry to commit crimes, including wiretapping against political opponents.
The scandal has been dubbed Bulgaria's Watergate and has severely damaged the chances of Mr Borisov's centre-right party, Gerb.
Mr Tsvetanov has denied ordering any surveillance. He blames the Socialist opposition for stirring up the scandal.
For its part, the Socialist Party (BSP) points the blame at a culture of personality politics that has taken hold in Bulgaria.
"In recent years politics has become somewhat focused on personalities, not on policies nor on ideas," says Kristian Vigenin, an MEP currently campaigning for the BSP.
He says his party is not guilty of this.
"We hope that Bulgarian voters will soon understand that it is the ideas the party can represent and defend and implement in parliament that are key to solving problems," he adds.
The wrangling between the two main parties has failed to impress the voters and it is marginal parties like Ataka which have gained.
'Simplistic answers'
However, Ataka looks poised to win just a handful of seats, perhaps not many more than the 21 it won in the last parliamentary elections.
I ask Mr Siderov why this is so.
"The main reason for the percentage shown in the opinion polls is because of the media blackout placed on Ataka party," he says.
"For years Ataka has been given a negative image. I personally was misrepresented as an extremist and as a dangerous man… and this was a deliberate effort by the media to smear the Ataka party."
The nationalist party leader has already found a way around this problem, using his own experience as a TV presenter.
He points to a room next to his office, full of his own journalists, busy preparing the party's evening's talk show, broadcast from Studio Ataka.
Often it is hosted by Mr Siderov himself.
The media alone will not allow Ataka to win or lose the centre ground, argues Daniel Smilov, from the Centre for Liberal Strategies think tank in Sofia.
"While there is a degree of truth in Mr Siderov's argument that the [economic] model we had is not as beneficial as it used to be," says Mr Smilov, "to blame the foreigners… is kind of simplistic and I don't believe that many people see some sort of answer to the real problem offered by Siderov."
If this is the case then the voters who have become frustrated by the main political parties may have nowhere to turn.
And with the prospect of no outright winner, Bulgaria's political outlook appears bleak.