Anti-establishment parties defy EU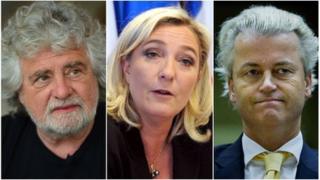 Major gains by the UK Independence Party (UKIP) in England's local elections appear to be part of a wider revolt against the political establishment in much of Europe.
Europe's traditional left-right-centre pattern of parliamentary democracy is being increasingly challenged by alternative parties and protest movements.
In Greece, the once-mighty Socialist party Pasok was thrashed into third place by an anti-bailout coalition of the left, while in Italy the success of a protest movement called Five Star forced left and right into an unlikely coalition.
Here BBC News looks at some of the anti-establishment forces making an impact in the EU.
Italy
Tapping into a mood of anger and resentment over the deep recession, former TV comedian Beppe Grillo's Five Star Movement came from virtually nowhere to win a quarter of the popular vote.
Disparaging parties of the left and right alike, Five Star railed against corruption and austerity, and promised to hold a referendum on continued membership of the euro.
In an interview for the BBC in February, Mr Grillo attributed his movement's success to "democratic rage".
He predicted the "right and the left [would] get together and... govern a country of rubble that they are responsible for".
Five Star's hugely effective campaign relied on the internet and public rallies, shunning the country's traditional media.
Share of vote at February 2013 election: 25.5%; number of MPs: 109 out of 690
(Note: Throughout "MPs" refers to politicians in lower house.)
Greece
Syriza, an acronym for Radical Coalition of the Left, rallied disparate small parties against Greece's EU-IMF bailouts, led by charismatic young politician Alexis Tsipras.
During the heated election campaigns of 2012, Mr Tsipras shocked eurozone leaders by asserting that Greece could simultaneously renege on its loan commitments and remain in the eurozone.
In 2009, his coalition had polled just 5%, while the Pasok socialists won the vote with a convincing 44%.
In 2012, after two huge, painful international bailouts of the economy, Syriza came close to winning both the May election and its repeat in June, while Pasok's support crumbled to 12%.
Share of vote at June 2012 election: 27%; number of MPs: 71 out of 300
The other big surprise of the 2012 elections was the arrival in parliament of the far-right Golden Dawn, coming fifth in the June vote after taking less than 1% in 2009.
In a country which has become the arrival point for four out of five illegal immigrants entering the EU, it pursued a staunchly anti-immigration campaign.
Reviled by many as neo-Nazis - its supporters wear black shirts and use neo-Nazi symbols - Golden Dawn has been linked to street violence. One controversial party tactic has been to hand out free food for Greek citizens only.
Share of vote at June 2012 election: 7%; number of MPs: 18 out of 300
France
While executive power still rotates between the traditional left and right, the far-right Front National (FN) remains in third place, campaigning against "Islamisation" and the euro.
Its leader, Marine Le Pen, has sought to end the party's racist image, pointing out, for instance, that it has Jews among its members, but many still identify the FN with her father, Jean-Marie Le Pen, a convicted Holocaust-denier.
Ms Le Pen told the BBC in February she supported UK Prime Minister David Cameron's desire to renegotiate the balance of power in the EU. Pointing to UKIP, she said: "We've managed to move the goal posts."
Share of vote in first round of May 2012 presidential election: 18%
While the Left Front came behind the FN in the presidential election, they dislodged centrist candidate Francois Bayrou from fourth place, a significant gain from the last election in 2007.
Capitalising on anger towards bankers and capitalism, their firebrand leader Jean-Luc Melenchon described his movement as "the people of French revolutions and rebellions".
Share of vote in first round of May 2012 presidential election: 11%
The Netherlands
The Party for Freedom (PVV) took 15.5% of the vote in the 2010 election on a strongly anti-Islamist platform, falling back to 10% in 2012.
Under its leader Geert Wilders, it stoked fears about the size and influence of the country's Muslim minority, now nearly 6% of the population.
However, it rejects the far-right label because of its espousal of liberal values such as gay rights. It is also notably Eurosceptic.
Share of vote at September 2012 election: 10%; number of MPs: 24 out of 150
Belgium
Vlaams Belang (Flemish Interest) won about 20% of the vote at local elections in Dutch-speaking Flanders in 2006, campaigning on a platform of independence for Flanders and anti-immigration.
The following year, it took 12% of the vote in national polls - its strongest ever result.
But it has since declined, falling back to just under 8% in 2010.
Last year, its leader, Filip Dewinter, launched a controversial campaign called "Women Against Islamisation", featuring his own 19-year-old daughter wearing a burka and a bikini.
Share of vote at June 2010 national election: 7.7%; number of MPs: 12 out of 150
Hungary
When the Socialists were ejected from office in 2010 after eight years in power, they lost half of their share of the vote, with the conservative Fidesz party taking an overall majority.
The shock result of the poll, however, was the leap made by the far-right party Jobbik, which took nearly 17% on an anti-globalisation platform despite winning no seats in 2006.
Jobbik, with its paramilitary uniforms and parades, has gained notoriety for its rhetoric against the Roma minority. It makes a special issue of "gypsy crime" and marches through Roma-majority areas.
One of its MPs caused outrage in parliament when he called for the compilation of a list of names of Jews who posed a "national security risk".
Share of vote at 2010 election: 16.7%; number of MPs: 47 out of 386
Finland
The True Finns took nearly a fifth of the vote in 2011, finishing third, after campaigning against further eurozone bailouts.
More populist than extremist, the party's charismatic leader, Timo Soini, has advocated reforming the EU into a free trade union without the euro.
After several of the party's MPs made derogatory remarks about immigrants, Islam and homosexuality, Mr Soini insisted in an interview for the BBC this year that the party was not racist.
Share of vote at 2010 election: 19%; number of MPs: 39 out of 200
Denmark
Despite slipping by a few points at the 2011 election, the Danish People's Party remains the country's third-biggest.
Regarded as populist and right-wing in its policies, the party seeks to limit immigration while integrating existing immigrants.
Analysts attribute its best electoral result - 13.8% in 2007 - to a backlash in public opinion after Muslim unrest in 2005 over the publication of cartoons of the Prophet Muhammad in Denmark.
Share of vote at 2011 election: 12.3%; number of MPs: 22 out of 179
Sweden
The Sweden Democrats entered parliament in Stockholm for the first time in 2010, demanding curbs on immigration.
Their leader, Jimmie Akesson, said in a BBC interview in 2011 that Muslim immigrants had created "parallel societies" and said immigrants were a "little bit more criminal" than native Swedes.
Critics accuse the party of being xenophobic.
Share of vote at 2010 election: 5.7%; number of MPs: 20 out of 349
Austria
Austro-Canadian billionaire Frank Stronach, who has vowed to shake up the eurozone, created a new parliamentary party without contesting an election last year.
Team Stronach aims to give Austria a new entrepreneurial impetus and end the traditional left-right coalitions. It was formed after the car parts magnate persuaded five MPs to defect from a small right-wing alliance.
Opinion polls at the time suggested the new party had the support of an estimated 10% of the electorate.
The country elects a new parliament in September.
No elections fought to date; number of MPs: 5 out of 183