French Islamist captured 'after fighting' in Mali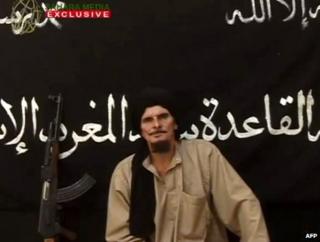 A French Islamic convert who threatened his home country has been captured in northern Mali, allegedly after fighting on the militants' side.
French troops captured Gilles Le Guen, who now goes by the name Abdel Jelil, on Sunday night north of Timbuktu, the army said.
Mr Le Guen, 58, is believed to have been living in Timbuktu.
France's Defence Minister, Jean-Yves Le Drian, said he appeared to have fought alongside Islamist militants.
Some reports suggest he joined the al-Qaeda in the Islamic Maghreb (AQIM) group, which the French army is fighting in the area, but the same group held him prisoner for a few days in November.
A month earlier, he had appeared in an Islamist video, his face uncovered and a gun by his side, to warn France, the US and the UN against intervening in Mali.
Shortly before France deployed troops to fight Islamists in the west African state in January, he told French news magazine L'Express by phone: "I am following the road traced by Osama bin Laden."
Since the intervention began, six French soldiers have been killed.
'Expulsion likely'
Mr Le Drian told Europe 1 radio Mr Le Guen had "evidently already fought in jihadist groups". He was captured by French troops on patrol, he said.
The detainee would, he said, be handed over to the Malian authorities and "probably expelled to France".
No charges had been drawn up but an investigation was under way, Mr Le Drian added.
Describing the detainee as a "loser who became a terrorist", the defence minister said the number of French citizens joining the ranks of the Islamists in the Sahel region could be counted "on the fingers of one hand".
Mr Le Guen, a former merchant seaman, is originally from the city of Nantes in western France.
He converted to Islam in 1985 and lived in Mauritania and Morocco before settling in Mali with his Moroccan wife and his family in 2011.
'Flogging dispute'
Correspondents say the case of Mr Le Guen is unusual in that he made no attempt to disguise his identity in Mali.
He is said to have lived mostly off wire transfers from Europe, and did odd jobs like fixing cars and broken water pumps.
A France 24 TV correspondent who met him during a visit to Timbuktu under the Islamist occupation says he was working as a goat farmer who helped with the town's electricity supply.
According to Timbuktu public figure Diadie Hamadoun Maiga, when AQIM occupied the town, the Frenchman was assigned to patrol it with a weapon.
While he was a committed Islamist, he endeared himself to residents by taking a firm stance against the flogging of women, Mr Maiga told AP news agency.
"Gilles Le Guen won a lot of points with us because he took our side..." he said. "One day he even burst into the prison and liberated women that had been arrested."
It is unclear why AQIM detained him in November, with some reports saying it was because of the stand he took against flogging women, others that the militants had suspected him of spying.