Wines from French presidential cellar to be auctioned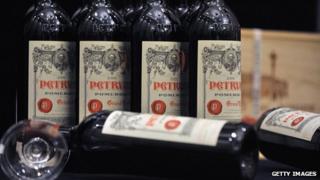 Wines from the cellar of the official residence of the French president will go under the hammer in Paris at the end of May, auctioneers Drouot have said.
Some 1,200 bottles, 10% of the Elysee Palace's collection, will be sold.
The estimated values of the French wines up for auction range from 15 euros (£12.70; $19.79) to 2,200 euros (£1,864; $2,902) for a Petrus 1990.
The Elysee Palace's cellar is hoping to raise around 250,000 euros to raise funds for refurbishment work.
History
All the wines on offer - largely Burgundy and Bordeaux - are French and are due to be auctioned on 30 and 31 May.
"These are wines that have figured at the presidential table for dinners or receptions," a Drouot spokesperson told the Reuters news agency.
"Some of them have participated in events linked to the history of the Fifth Republic."
Many of the wines from the cellar, which was created in 1947, are suitable for drinking immediately, according to reports.
They will be replaced with less expensive wines, the Drouot spokesperson added. Remaining profits will be returned to state coffers.
In March, the UK government announced it was selling off some of its vintage French wine for the first time as part of a rationalising push.