Owner jailed over deadly 2009 Russia nightclub fire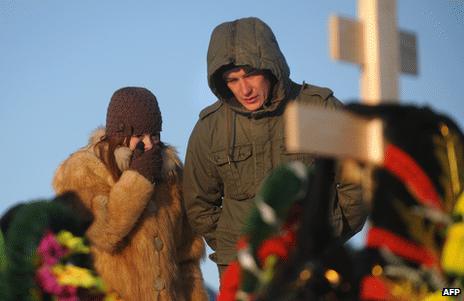 A court in the Russian city of Perm has sentenced the owner of a nightclub where 156 people died in a fire in 2009 to nearly 10 years in prison.
Anatoly Zak was convicted of negligence over the disaster at the Lame Horse club, where sparks from fireworks set alight wall and ceiling decorations.
Many victims died from smoke inhalation while others were crushed trying to escape, and 100 people were also hurt.
Six other defendants were jailed for between four and six years.
The club had no fire exits and fireworks were set off despite a ban on their use indoors.
Russia declared a day of national mourning after the fire on 5 December 2009 in Perm, which is about 1,400km (870 miles) east of the capital Moscow.
Zak, who was jailed for nine years and 10 months, insisted on his innocence, saying he was a scapegoat for others, Russia's lifenews.ru website reported.
He and others were expected to appeal.
In May 2012, the club's manager was jailed for six-and-a-half years.