Medicus: Five guilty in Kosovo human organ trade case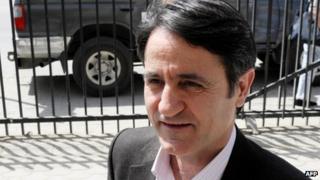 An EU-led court in Kosovo has found five people guilty in connection with a human organ-trafficking ring.
The five are accused of carrying out dozens of illegal transplants at the Medicus Clinic in the capital, Pristina.
Meanwhile two former government officials also charged in the case have been cleared of involvement.
The trade was discovered when a Turkish man collapsed after having one of his kidneys removed at the clinic.
The case is being tried by Eulex, the European Union's law and order mission set up in Kosovo to handle sensitive cases.
The clinic's director, urologist Lutfi Dervishi was sentenced to eight years in prison for organised crime and human trafficking. His son, Arban, was sentenced to seven years and three months, while three other defendants received between one and three years' imprisonment.
Meanwhile Kosovo's former health secretary, Ilir Rrecaj, was acquitted on the charge for abusing official position or authority.
'Extreme poverty'
The special court heard that the Medicus Clinic recruited poor people from across eastern Europe and central Asia, promising them 15,000 euro (£12,600) for their organs.
Donors came from Moldova, Kazakhstan, Russia and Turkey and lived in "extreme poverty or acute financial distress", the indictment said.
"They were alone, did not speak the local language, were uncertain of what they were doing and had no one to protect their interests," Judge Dean Pineles told the court on Monday.
Organ recipients, alleged to have been mainly from Israel, paid between 80,000 and 100,000 euro to receive a transplant.
Prosecutors alleged that at least 30 illegal kidney removals and transplants were carried out at the Medicus clinic in 2008.
The scandal broke when a Turkish organ donor was stopped by officers at Pristina airport, because he looked visibly in pain after having one of his kidneys removed at the clinic.
The centre was closed down shortly after Kosovan and UN police officers launched their investigation.
The international trafficking case was tried by Eulex because of the involvement of two government ministers, reports BBC Balkans correspondent Guy de Launey.
Five years on from its unilateral declaration of independence from Serbia, Kosovo's own judiciary is still weak and vulnerable to external influence, our correspondent says.
Kosovo has been haunted by another alleged case of organ-trafficking dating back to the war in 1999.
In that case, which has never been proven, Kosovo Liberation Army (KLA) militants allegedly trafficked the organs of Serb captives they later killed.