EU unveils plans to help migrant workers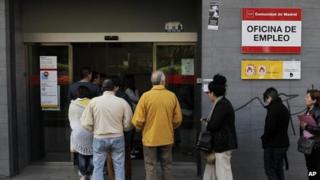 The European Commission has unveiled plans to improve the rights of workers who move to take up employment in another state within the EU.
The commission said there was no evidence migrant workers took jobs from nationals of the country they moved to.
It said high jobless levels in some states made it important to help anyone wishing to migrate for work.
The UK said it would "forcefully resist any attempt from Europe to load additional burdens" on Britain.
'Key principle'
The European Commission said member states should provide better information and assistance to migrant workers and to employers, so that they were better informed about their rights.
Employment and Social Affairs Commissioner Laszlo Andor said: "The free movement of workers is a key principle of the EU's single market.
"With much higher levels of unemployment in some member states than others at the moment, it is all the more important to make it easier for those who want to work in another EU country to be able to do so."
A commission statement added that migrant work "benefits host countries because it allows companies to fill vacancies that would otherwise not be filled - there is no evidence that migrant workers take jobs away from host country workers".
The proposals, if taken up by MEPs and ministers, would require member states to provide dedicated contact places for migrant workers and make it easier to bring cases of discrimination.
The UK this week stressed its commitment to freedom of movement within the EU for people who wanted to work.
But BBC Europe correspondent Chris Morris says the UK has also called for much tougher action against those who abuse the system, arguing that rules that allow recent arrivals who have never been employed or paid taxes to claim the same social security benefits as a member state's own citizens were an affront to common sense and should be reviewed urgently.
A Home Office spokesman said of the latest proposals: "We will forcefully resist any attempt from Europe to load additional burdens on to countries like Britain.
"We are already taking tough action to stamp out the abuse of free movement, to protect our benefits system and public services: we will not allow this country to be a soft touch."
Only about 3% of the EU workforce is employed in another member state, figures from 2012 show.