Pussy Riot band member Tolokonnikova denied parole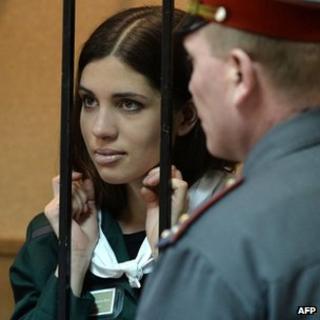 A court in north-eastern Russia has denied parole to one of the jailed members of the punk band, Pussy Riot.
Nadezhda Tolokonnikova, who is serving a two-year sentence, had been eligible for early release from a penal colony.
She and two other members of Pussy Riot were convicted in August of hooliganism motivated by religious hatred.
They were arrested after performing an obscenity-laced "punk prayer" in protest against President Vladimir Putin at Moscow's main cathedral.
An appeals court suspended the sentence of one of the convicted women, Yekaterina Samutsevich, in October, but upheld the jail terms for Ms Tolokonnikova and Maria Alyokhin.
On Friday, Ms Tolokonnikova attended her parole hearing in the town of Zubova Polyana wearing a dark green prison uniform with a white scarf.
"I have spent enough time in the prison camp. I've had enough of studying it. Six months is time enough," she told the judge, according to the Rapsi legal news agency.
Her lawyer also argued that Ms Tolokonnikova's five-year-old daughter, Gera, needed her mother, and presented an appeal for her release signed by several prominent human rights activists.
The penal colony opposed her request, saying she had failed to "repent" and had received reprimands for failing to greet a prison official while she was in hospital and refusing to go for a walk at a Moscow jail.