Serbian president apologises for Srebrenica 'crime'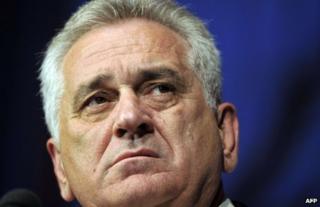 Serbia's President, Tomislav Nikolic, has apologised for all "crimes" committed by Serbs during the break-up of Yugoslavia, including Srebrenica.
But he refused to call the killing of thousands of Bosnian Muslims an act of genocide, as recognised by UN war crimes prosecutors.
Mr Nikolic said he was kneeling down and seeking forgiveness for Srebrenica.
The president is a former senior figure in the ultra-nationalist Serbian Radical Party.
He was criticised after his election last year when he said: "There was no genocide in Srebrenica."
Some 8,000 Bosnian Muslims were killed at Srebrenica in 1995 after Bosnian Serb forces overran the UN-defended safe area there.
It was the worst atrocity in Europe since the end of World War II.
Previous Serbian leaders such as Mr Nikolic's predecessor, Boris Tadic, have accepted that it was genocide.
Under Mr Tadic's leadership, Serbia captured Bosnian Serb war crimes suspects Radovan Karadzic and Gen Ratko Mladic, and handed them over to international prosecutors at The Hague.
'Not convinced'
Speaking to Bosnian TV, President Nikolic said: "I kneel and ask for forgiveness for Serbia for the crime committed in Srebrenica.
"I apologise for the crimes committed by any individual in the name of our state and our people."
Bosnian Muslim leader Bakir Izetbegovic had recently urged Mr Nikolic to acknowledge Srebrenica as an act of genocide.
"In order to go forward, we need to stop for a moment and look back to... what has happened in Srebrenica," he said after meeting him in the Serbian capital, Belgrade.
"We ask this truth to be recognised and words to be chosen when talking about it... and to respect the decisions of the international courts."
Munira Subasic, president of the Mothers of Srebrenica association, told AFP news agency she was "not convinced" of President Nikolic's sincerity.
"We do not need someone to kneel and ask for forgiveness," she said. "We want to hear the Serbian president and Serbia say the word genocide."
The UN International Criminal Court for the former Yugoslavia and the UN International Court of Justice, both based in The Hague, recognise the crime as genocide.
War in the former Yugoslavia 1991 - 1999
The former Yugoslavia was a Socialist state created after German occupation in World War II and a bitter civil war. A federation of six republics, it brought together Serbs, Croats, Bosnian Muslims, Albanians, Slovenes and others under a comparatively relaxed communist regime. Tensions between these groups were successfully suppressed under the leadership of President Tito.
After Tito's death in 1980, tensions re-emerged. Calls for more autonomy within Yugoslavia by nationalist groups led in 1991 to declarations of independence in Croatia and Slovenia. The Serb-dominated Yugoslav army lashed out, first in Slovenia and then in Croatia. Thousands were killed in the latter conflict which was paused in 1992 under a UN-monitored ceasefire.
Bosnia, with a complex mix of Serbs, Muslims and Croats, was next to try for independence. Bosnia's Serbs, backed by Serbs elsewhere in Yugoslavia, resisted. Under leader Radovan Karadzic, they threatened bloodshed if Bosnia's Muslims and Croats - who outnumbered Serbs - broke away. Despite European blessing for the move in a 1992 referendum, war came fast.
Yugoslav army units, withdrawn from Croatia and renamed the Bosnian Serb Army, carved out a huge swathe of Serb-dominated territory. Over a million Bosnian Muslims and Croats were driven from their homes in ethnic cleansing. Serbs suffered too. The capital Sarajevo was besieged and shelled. UN peacekeepers, brought in to quell the fighting, were seen as ineffective.
International peace efforts to stop the war failed, the UN was humiliated and over 100,000 died. The war ended in 1995 after NATO bombed the Bosnian Serbs and Muslim and Croat armies made gains on the ground. A US-brokered peace divided Bosnia into two self-governing entities, a Bosnian Serb republic and a Muslim-Croat federation lightly bound by a central government.
In August 1995 the Croatian army stormed areas in Croatia under Serb control prompting thousands to flee. Soon Croatia and Bosnia were fully independent. Slovenia and Macedonia had already gone. Montenegro left later. In 1999 Kosovo's ethnic Albanians fought Serbs in another brutal war to gain independence. Serbia ended the conflict beaten, battered and alone.
BACK
{current} of {total}
NEXT