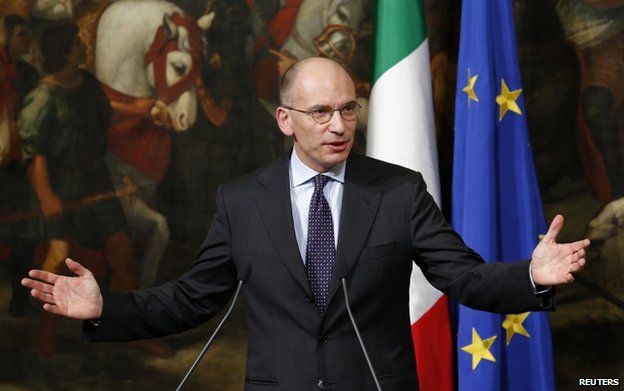 Enrico Letta, a 47-year-old centrist, came to power as a bridge-builder between his centre-left Democratic Party (PD) and Silvio Berlusconi's centre right.
A Europhile on the moderate side of the PD, his rapid ascent to the post of prime minister was as unexpected as his downfall, which was prompted by his own party leader, Matteo Renzi, 10 months later.
It was in April 2013, after weeks of post-election stalemate, that President Giorgio Napolitano asked Mr Letta to form a government, after party leader Pier Luigi Bersani had failed.
Unlike Mr Bersani, the party's deputy leader Enrico Letta won the support of Berlusconi's centre right.
It helped having an uncle, Gianni Letta, who was Berlusconi's chief political fixer. Indeed, the younger Letta spent two hours with the his uncle's former boss, shortly before heading to the president's residence, the Quirinale, to discuss the make-up of his government.
While Berlusconi would not take part, one of his closest allies, Angelino Alfano, played a key role as Letta's deputy and interior minister, remaining to the end, even after his former party leader abandoned the coalition.
In a country distinguished by its ageing political class, Enrico Letta's political rise was rapid.
His political career began with the the centre-right Christian Democrat party that dominated Italian politics in the post-war era.
He served in three centre-left governments and became the third youngest Italian prime minister in history, after Giovanni Goria in 1987 and Amintore Fanfani in the 1950s.
Born in Pisa in 1966, Mr Letta undertook a doctorate in European Community law before heading the European youth wing of the centre-right Christian Democrats from 1991-1995.
When Silvio Berlusconi entered politics in 1994, the Christian Democrats split and Mr Letta sided with a new centre-left coalition headed by Romano Prodi.
He worked in the finance ministry as Italy prepared to join the euro, before being named minister for European Affairs in 1998 at the age of 32 - the youngest cabinet minister in Italy's post-war history.
He later served as industry minister and as minister for foreign trade before the centre left lost power in 2001.
From 2006-2008 he was cabinet secretary in Mr Prodi's government, a position his uncle was given in the centre-right government that followed.
In 2007 he challenged front-runner Walter Veltroni in primaries for the leadership for the newly formed PD, winning just 11% of the votes - but gaining the chance to start building his own political base. He became deputy leader of the PD in 2009.
According to his biography on the PD website he supports AC Milan, the football club of which Mr Berlusconi is president. He is married with three children.
Mr Letta is a well-established member of the political establishment. But the fact that he drove himself to the presidential palace in his own Fiat car to accept the prime ministerial mandate was seen by some as a statement against the extensive privileges for which Italian politicians had become known.
Announcing the formation of his government, Mr Letta said he was satisfied with the record number of women selected and the younger profile of his team.
"My big task will be to make sure that from this affair we can get a different Italian politics with institutional reforms," Mr Letta pledged.
In a signal to the rest of Europe and the markets, he brought in the head of the Bank of Italy, Fabrizio Saccomanni, as economy minister, and a former European Commissioner, Emma Bonino, as foreign minister.
He was keen to reform the parliamentary system, reduce the number of deputies, and change Italy's electoral law in order to make politics more stable.
"It will be a government at the service of the country, the aim including that of bringing morals to the country's public life, which needs new nourishment."
But his hoped-for stability was not to last. And it was Silvio Berlusconi who provided his first major challenge.
Weeks after Berlusconi was convicted of fraud, the prime minister faced a confidence vote in October 2013. Berlusconi accused him of "political assassination through judicial means", as the Senate considered whether to throw him out of parliament.
Although Mr Letta survived and Berlusconi's political career was in tatters, the government's strength was weakened. Some Berlusconi MPs remained, but several followed their leader into opposition.
By December, the Democratic Party had a charismatic young leader in Matteo Renzi. The next month the new PD leader met Silvio Berlusconi to discuss the prospect of electoral reforms and within weeks he was openly criticising the slow pace of change under the Letta government.
When he came to power Enrico Letta said he would give his all for the job because Italians were "fed up with these little political games".
Ten months later, it was a party colleague who brought him down.
Related Internet Links
The BBC is not responsible for the content of external sites.