Psychiatrists refuse to assess suicidal pregnant women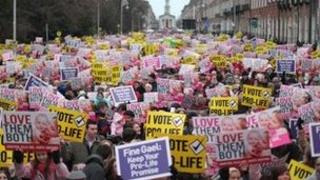 Irish psychiatrists have said they will not participate in any compulsory assessment of suicidal pregnant women who are seeking an abortion.
The College of Psychiatry in Ireland said its members would not be the country's "social police".
Irish media had reported a suicidal pregnant woman would be assessed by six specialists, including psychiatrists, before abortion could be allowed.
But health minister James Reilly denied this was part of draft legislation.
Irish law prevents abortion unless there is a risk to the life, rather than the health, of the mother.
On Wednesday, the president of the College of Psychiatry said forcing vulnerable women to undergo mandatory psychiatric assessments by up to 12 people was "abusive".
Dr Anthony McCarthy said compelling psychiatrists to take part in such a system was abusing their profession.
He said the government must deal with the abortion issue and legislate adequately for it, and should not pass the social control of a situation onto psychiatrists.
He said it was the position of the college that they would not take part in such panels of "forced assessments".
Dr McCarthy said psychiatrists would be happy to continue to provide second opinions, as is normal professional practice, but would not "collude" in any process of formalised compulsory assessment panels.
Psychiatrists would not act as judges, tasked with assessing whether a woman was feeling suicidal, he said.
New abortion laws were promised after the death of Savita Halappanavar in October 2012.
The 31-year-old died in University Hospital Galway four days after suffering a miscarriage. The cause of her death was septic shock, E. coli in her bloodstream and a miscarriage at 17 weeks.
Her family claimed she might have survived if she had been given an abortion.
At the inquest into her death, a leading obstetrician said Mrs Halappanavar would probably still be alive today if she had had a termination in the first three days of her stay in the hospital, but that under Irish law an abortion would have been illegal because there was "not a real and substantial risk to her life" at that stage.