Roddy Doyle's The Commitments becomes West End musical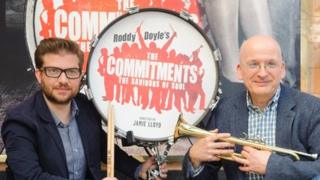 Irish author Roddy Doyle's bestselling novel The Commitments is being made into a musical.
It is more than 25 years since the story of a group of aspiring soul musicians was first published.
Doyle's 1987 tale of the young working class man Jimmy Rabbitte's efforts to form the "finest soul act in Dublin" was a hit film in 1991.
Among those with a role in Alan Parker's film was a young Andrea Corr who played Sharon Rabbitte.
The author turned down a flood of requests to adapt his novel into a musical at the time.
"I kind of ignored it for years and then as my children got older and I began to bring them to the occasional musical... I began to enjoy a lot of it," he said at a press launch on Tuesday.
The musical, also written by Doyle, will preview at London's Palace Theatre starting on 21 September.
Musicals such as Jersey Boys, Billy Elliot and The Producers captured the author's imagination and kindled his interest in bringing The Commitments to the stage.
"Jersey Boys I found very inspiring because I loved the way the music actually drove the story, it wasn't just story followed by a song followed by story," he said.
Most of the cast members for a show, that will be packed with classic soul songs such as Mustang Sally, were not even born at the time the novel was set in 1986.
Doyle said rumours he was working on a sequel to The Commitments were not exactly correct, although his original character, Jimmy, was making a comeback in his new novel, The Guts.
"What is true is that I have a new novel coming out in August and Jimmy Rabbitte, the manager of The Commitments, is the central character, but he is a 48-year-old man and he is not re-forming The Commitments or anything like that at all."
The Dublin of 2013 is a long way from Dublin 1986.
"If I was to try and set the story today a lot of it would fall away immediately because Jimmy Rabbitte would have a smartphone and he would be able to sit and organise everything he needs to do without having to come into contact with anybody and that's the end of the story," Doyle said.
He said he had not intended to write the musical himself, but discovered while interviewing other writers that he was answering all his own questions and thought that perhaps he should try.