Europe: Retreat from austerity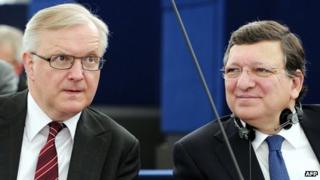 Like the arrival of a new season, all the signs are that Europe is in retreat from austerity.
The retreat is disguised, but cannot be concealed. The President of the European Commission, Jose Manuel Barroso, said: "While I think 'austerity' is fundamentally right, I think it has reached its limit." He implied that a policy can only be pursued if it has "a minimum of political and social support".
There is not a general recanting yet, but the explanations are flying thick and fast as to why the policy that Europe has embraced for the past three years must change.
The EU's Economics Commissioner, Olli Rehn, said: "A period of reduced spending and borrowing was necessary to calm markets concerned about out-of-control debt levels, particularly in peripheral European countries. That time has passed."
The policy of austerity first - authored in Berlin - never had a consensus behind it, but it now lies widely discredited. The French government does not believe in it. President Francois Hollande said only recently that "sticking with austerity would condemn Europe not just to recession but an explosion".
Only last week, in an editorial, the New York Times said: "All evidence shows that this bitter medicine is killing the patient."
Some of the critics of the austerity first policy are in full cry. Hannes Swoboda, president of the Socialists and Democrats (S&D) group in the European Parliament, said that "five years into the crisis, Commission President Barroso has finally recognised the reality: austerity is neither effective nor socially viable".
Serious doubts
Many German officials insist, with some evidence, that reducing deficits and spending has been key to calming the crisis and preventing the break-up of the eurozone.
Even so, in an effort to reduce deficits and make southern Europe more competitive, countries have been reducing demand, even at a time of recession.
The result is what the Greek prime minister acknowledged was "Europe's Great Depression". Greece has seen its economy shrink by 25% in five years. Spain's recession is three times deeper than forecast. The IMF predicts its economy will shrink 1.6% this year. Its general unemployment level is at 27%.
As the New York Times pointed out, Portugal cut its fiscal deficit by a third between 2010 and 2012 and saw unemployment rise to 18%. Across Portugal, the Republic of Ireland, Greece, Italy, Spain and Cyprus the best educated are on the move, seeking work beyond their own countries.
The policy is partly changing because its intellectual underpinning has been challenged.
Two economists - Carmen Reinhart and Kenneth Rogoff - were two of the gurus behind European austerity. Their basic thesis was that when debt rose above 90% of GDP, growth would decline sharply. Olli Rehn, for one, spoke of "the 90% rule".
Now there are serious doubts about the accuracy of that thesis. It is also being asked why European officials were determined to bring deficits below 3%. In many instances the deficit targets seemed arbitrary. The IMF is not alone in acknowledging it underestimated the impact of spending cuts on growth.
So the austerity believers are in retreat. Ireland and Portugal have been granted seven more years to meet their targets. Spain is likely to miss its target for reducing its deficit. Indeed, it had the biggest public deficit in the EU last year. Increasingly it looks as if it will get more time. Perhaps two more years. Suddenly targets are being eased and relaxed.
For what Europe's leaders and officials fear more now is unemployment, recession, and growing disillusionment with the eurozone that seems unable to deliver. Reducing debt is no longer the priority.
But the question remains - could the devastation of the economies of southern Europe have been avoided, or has that been the price of preserving the eurozone?