FC Bayern's Uli Hoeness criticised over tax by Merkel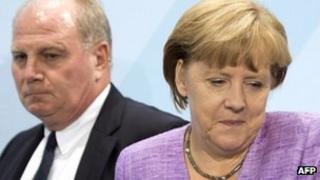 German Chancellor Angela Merkel has expressed disappointment after it emerged that the president of Bayern Munich football club faces an investigation for alleged tax evasion.
Uli Hoeness is reported to have contacted the German authorities himself about a Swiss bank account.
Prosecutors have now launched an investigation.
Mr Hoeness is a former European champion and World Cup winner with West Germany.
Mrs Merkel's spokesman, Steffen Seibert, said: "Many people are now disappointed in Uli Hoeness, among them the Chancellor."
He said the sense of disappointment was all the greater as Mr Hoeness "stood for so much that is positive", including support for the integration of immigrants.
The Bayern Munich president is refusing to comment further on the specifics of the case, though he criticised what he called "excesses" in some media coverage of his affairs.
"As you can imagine, there's a lot I want to say, but I have to hand my homework in to the authorities first," he told Sueddeutsche Zeitung.
Capital gains
Mr Hoeness, 61, told Focus weekly at the weekend that he had informed the tax authorities in January about a Swiss bank account and was co-operating with tax officials.
Neither he nor officials have disclosed how much money is involved, but German media suggest he deposited millions of euros in a Zurich-based account over 10 years.
He is said to have failed to pay capital gains tax.
Focus quoted Mr Hoeness as saying he had originally planned to take advantage of a proposed German-Swiss tax agreement.
The accord was designed to allow German tax evaders with undeclared assets in Swiss accounts to confess, escape legal action and remain anonymous in return for coming clean.
Under the proposals, which were put forward by Mrs Merkel's centre-right government, those who admitted to undeclared Swiss assets would pay a one-off tax of between 21 and 41%.
However, the opposition Social Democrats and Greens defeated the measure in the upper house of parliament, the Bundesrat, saying it would provide cover for tax dodgers.
"Mr Hoeness and many others expected the agreement to be signed, they would keep their anonymity and their behaviour would be virtually retrospectively legalised," Peer Steinbrueck, the Social Democrats' candidate for chancellor told ARD TV.
Germany and Switzerland have been embroiled in a long-running dispute over the estimated 180-200bn euros (£145-160bn) of German assets concealed in Switzerland.
It was hoped the agreement, which was due to come into effect in January, would have put the issue to rest.