Napolitano aims to break Italy's political deadlock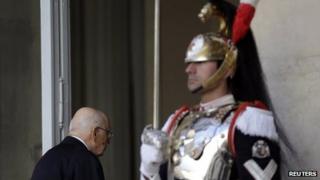 Italy's newly-re-elected Head of State, President Giorgio Napolitano, has berated his country's feuding politicians after being sworn-in for an unprecedented second term.
On this major parliamentary occasion he told the assembled MPs that they had been guilty of a long series of failings.
With his voice at times cracking with emotion and frustration, he said their failure to implement key reforms - in particular to the election law - had been "unforgivable".
And he delivered a thinly-veiled warning that he would resign unless things changed.
"I must be frank," he said. "If I again face deafness - as in the past - I will not hesitate to take conclusions in front of the nation."
Desperation
The factions that filled the benches in front of him are so divided that in the two months since the general election they have not been able to form a new coalition government.
President Napolitano said that this could not go on. There had to be a new administration "without delay".
The very fact that the president was being sworn in as Italy's president for a second time is testament to the country's political paralysis.
Aged 87, he was just weeks away from a well-earned retirement. He had actually already begun shipping his books out of the presidential palace.
But in round after round of balloting, the political parties could not agree on who should replace him.
Just as they had failed to form a coalition government in the two months since the general election, so they were failing to elect a new head of state.
And in desperation, they beseeched Mr Napolitano to stay on, to renew his mandate.
Reluctantly he agreed, and he was resoundingly re-elected almost immediately on Saturday.
Prof Roberto D'Alimonte, a political scientist at Rome's LUISS University, said the manoeuvre was "an emergency solution to prevent a complete deterioration of the political situation and maintain a certain amount of stability and continuity."
Now the president is focusing all the powers of his fresh mandate on trying to break the parliamentary deadlock and put a government in place.
And given that they begged him to stay on, the squabbling parties will be obliged to listen to him.
Riven by infighting
Mr Napolitano will press for the formation of a broad coalition, perhaps led by an elder statesman like the former Prime Minister, Giuliano Amato.
Along with other, smaller factions, the administration would be likely to include Silvio Berlusconi's right-wing alliance and its major rival, the largest grouping on the left, the Democratic Party (PD).
But what sort of role the leftists will be capable of playing in this most awkward of political marriages is unclear.
Tensions surrounding the effort to elect a president laid bare the PD's deep divisions.
There were big rebellions against candidates proposed by its leader, Pier Luigi Bersani.
He was forced to say he would resign, and the party is now a badly broken thing, riven by infighting.
"There are vendettas still to play out in the devastated family of the PD," said an editorial in Corriere della Sera.
"This is what happens when a party implodes... Words fly like knives and those who felt excluded by the previous management try to retake what they believe is theirs."
No wonder Mr Berlusconi smiled broadly as he stood in Parliament on Saturday to applaud President Napolitano's re-election.
He had just watched his major rivals in the PD self-immolate.
Back-room deal?
But while the traditional parties clamoured for President Napolitano to stay on and save them from themselves, one large parliamentary faction took a very different line.
The citizens' protest network, the Five Star Movement, saw in all this the sort of old-style politics that it detests. It suspected back-room deal-making by an established order determined to hang on to power at any cost.
For the Movement's guiding star, the comedian-turned politician Beppe Grillo, the manoeuvring to re-appoint the president was another example of the political system's resistance to renewal and regeneration.
"The Five Star Movement has become the only opposition, the only possible change," said Mr Grillo. "It's us or them, the choice is clear.
"In a few months, the economy will touch rock bottom and it will be very bitter. After that, however, a new Italy awaits us."
And if whatever awkward coalition government emerges in the days ahead fails to implement meaningful reform, Mr Grillo's Movement may well prosper.
It stormed into parliament at the election after harnessing the contempt felt for the political establishment by many Italians who regard the traditional parties as corrupt and self-serving.
"This is a moment of transition, a period of re-alignment in Italian politics," said Professor D'Alimonte. "We see in the electoral volatility how Italians are changing the parties they normally vote for.
"The situation is in flux."
And the next government will very much be judged on its handling of the economy.
Italy's long, grim recession is deepening. But just for the moment at least, the markets seem to like what they see.
The Milan stock exchange rose by as much as 2% on hopes that the experienced and widely respected President Napolitano will indeed be able to oversee the restoration of a degree of political stability.