Willem-Alexander Dutch investiture: King's Song outcry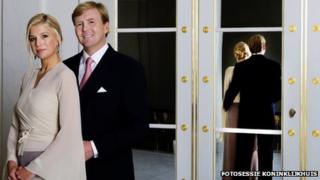 Tens of thousands of people in the Netherlands have objected to an official King's Song marking the 30 April investiture of Willem-Alexander.
The song, composed by Dutch-British producer John Ewbank and performed by 51 Dutch artists, was released on Friday morning.
By Saturday, an online petition entitled No to the King's Song had attracted 37,000 signatures.
Mr Ewbank has now withdrawn it as the official anthem.
Many had objected to the lyrics as well as the mix of rap with traditional music.
Crown Prince Willem-Alexander, 45, and his Argentine-born wife Princess Maxima will become king and queen when his mother, Queen Beatrix, abdicates on 30 April aged 75.
In an interview broadcast on Thursday, he promised to be a "traditional king" but declared he would not be a "protocol fetishist".
'Dreadful'
The five-minute song - Koningslied in Dutch - was due to be performed in the presence of the new king and queen on the day of Willem-Alexander's swearing-in at 19:30 (17:30 GMT).
The performance, via video-link from the Ahoy sports arena in Rotterdam, was to feature some of the Netherlands' best-known stars including Marco Borsato and Trijntje Oosterhuis.
But both music and lyrics met with disdain following the song's launch at 08:30 on Friday by the national enthronement committee.
John Ewbank's music, which starts gently and at one point bursts into rap, was labelled "overproduced" by one critic who condemned the rap segment as "dreadful".
As soon as the much-hyped song hit the airwaves a petition against it went online, the BBC's Hague correspondent Anna Holligan reports.
"In protest at this imbecilic 'King's Song', I hereby abdicate as a Dutch subject," the petition reads.
Mr Ewbank said the response was entirely expected because the song had been put under an "enormous magnifying glass".
While the lyrics were based on words submitted by Dutch citizens, they were put together by four writers.
Some critics complained about lines such as: "I build a dyke with my bare hands and keep the water away" and "through wind and rain I'll stand beside you... I'll keep you safe as long as I live".
One signatory to the petition said the song "spontaneously turns you into a republican, if you weren't one already".
Despite the outcry, the song has gone straight to the top of the Dutch iTunes chart, our correspondent says.