Nine-year-old Joe Prendergast bags dream book deal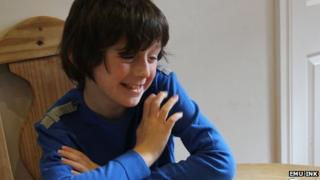 It's not every day you're invited to the home of an inspiring author to talk about his latest book so I was quite excited about meeting Joe Prendergast.
As we sipped tea in his kitchen, he talked excitedly about his passion for writing, his favourite books and his plans for a third novel.
"I get most of my ideas on the trampoline," he says.
An odd statement from an accomplished novelist, but then Joe is only nine.
Astonishingly, the young Dubliner has just had his second novel published and he is already planning the final instalment of his Great Fragola Brothers trilogy.
The books tell the tale of two magicians who become embroiled in a world of secret societies and dark magic.
"They're very protective of each other because they're brothers. But they're total opposites and I really like that," he said.
"I just got the idea and started writing, not thinking I'd do anything this big with it.
"I'd started a few books, but I'd not actually stuck at one and finished a novel."
Cancer research
Joe's determination to finally complete one of his stories, followed the death of his dad Geoff from lung cancer last summer.
"I wanted to do something, even before I started writing the book, for my dad. I didn't think it was going to be published, I just wanted to dedicate it to him."
But it didn't take long for Joe's talent to catch the attention of online publishing company Emu Ink, making him one of the youngest authors in Ireland.
Despite his new found success Joe, a pupil at Holy Trinity National School in Leopardstown, remains modest.
He plans to donate all the proceeds from his sales to the Clinical Cancer Research Trust at St Vincent's Hospital in Dublin, where Geoff lost his five-year battle with the disease.
With a tilt of the head and a bashful smile, he says that he thinks his dad would have liked reading about the Fragolas' mystical adventures.
"I think he might have enjoyed it. We wrote a small picture book together when I was very young, and we stapled it.
"He knew that I liked to write but I hadn't actually started and finished a book. I don't think he'd know I would have been published."
'Good fortune'
Joe's mum Ita said his storytelling talent began to shine through at a very early age.
"I just thought it was normal but when he went to school the teacher picked up on it instantly and said 'oh my god, he's reading already'. So she had very little work to do.
"He started writing and using the computer from about five on. And he's a faster typer than I would be.
"I think Geoff would be extraordinarily proud. I think he would say to him 'it's an incredible piece of luck and good fortune'. But I think he would be proud of him for sticking at it."
Joe plans on using his talents to carve out a successful career in the future.
"I have a lot more stories developing, I just can't find the right idea. I have so many to choose from," he says as he taps his head.
"I really just want to write. I want to be a writer and it's great to start off so early. But if I can't be a writer I want to be a journalist or a radio DJ."
I offer him some journalistic tips and in return he tells me what it takes to become a successful author.
"You just have to let your imagination run wild and always take your time," he says.
It is sound advice, but I might have to try out the trampoline too.