German anti-euro party holds founding conference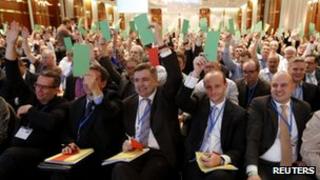 A new German political party opposed to the single European currency is holding its first national conference.
Alternative for Germany wants the euro abolished, with states returning to their original currencies.
Opinion polls suggest the party is unlikely to win widespread support in September's general elections.
But analysts say it could skim enough votes from Chancellor Angela Merkel's Christian Democrats to make it harder for her to retain power.
'Big problem'
About 1,500 members of the Alternative for Germany, established last month, cheered as party founder Bernd Lucke outlined its stance.
"Because of the euro, people in southern Europe don't hesitate to express their disgust toward Germany, using old Nazi comparisons," he said.
"The euro was a failure and it would be bad if we continue to believe in this fairy tale," he said.
"If the euro fails, Europe doesn't fail," he added, challenging an assertion made frequently by Mrs Merkel.
Earlier, Professor Lucke told the BBC he wanted to see a "gradual dismantling of the euro as a common currency".
"We think that Europe has big problem coping with the euro as a common currency, since there are member countries of the eurozone which have big competitiveness problems, and which actually need a devaluation and can't have it," he said, citing Italy, Greece, Spain, Portugal and France as examples.
He argues that bailouts aggravate rather than solve problems in southern European countries, though he says the party is not opposed to European unity.
The party has attracted support from a number of academics and disillusioned members of Mrs Merkel's CDU.
It also wants to introduce Swiss-style national referendums into EU decision-making, including on issues such as economic rescue packages.
Polls suggest, however, that two-thirds of Germans remain in favour of the single currency.
One poll earlier this month suggested that 7% of Germans would vote for the new party, and another 17% would consider doing so.
But there is doubt over whether it will garner the 5% of the vote required to enter the German parliament in September's general elections.
Correspondents say Mrs Merkel remains comfortably ahead in terms of popularity, but must tread a thin line between those who are frustrated with frequently bailing out poorer eurozone countries, and those who support German efforts to preserve the euro.