US publishes Magnitsky list of sanctioned Russians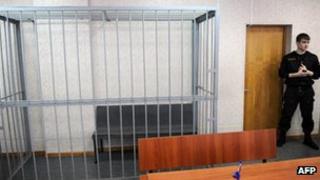 The United States has published a list of mainly Russian officials banned from entering the country because of alleged human rights abuses.
Russia had earlier warned against making the 18 names public, warning it could severely damage relations.
The US imposed the sanctions after Russian lawyer Sergei Magnitsky died in jail in 2009 in disputed circumstances.
The list includes tax officials and police officers who jailed Magnitsky after he accused them of corruption.
But senior officials from President Vladimir Putin's entourage who had been expected to be included were left off, including Russia's top police official Alexander Bastrykin.
Alexei Pushkov, a senior Russian lawmaker, said the pared down list suggested that "the US presidential administration decided not to take the path of aggravating a political crisis with Moscow", according to the Interfax news agency.
Some 250 names had originally been put forward by US politicians. The final list includes people from Russia, Ukraine, Azerbaijan and Uzbekistan, 16 of them linked to the Magnitsky case.
The others are officials deemed to have participated in recent Kremlin moves to restrict Russians' political rights.
Mr Magnitsky was arrested in 2008 for tax evasion after accusing Russian police officials of stealing US $230m (£150m) from the state through fraudulent tax rebates. His family and rights groups say he was badly beaten and denied medical treatment in custody.
The Magnitsky Act passed by Washington in 2012 blacklists Russian officials accused of involvement in his death. The names on the list have up to now been kept secret.
Counter measures
In response, Russian President Vladimir Putin signed a Russian law barring Americans from adopting Russian orphans.
More recently the Russian foreign ministry has drawn up its own blacklist of US officials who are alleged to have committed human rights violations.
Sources say that the counter-measures will be "symmetrical" and should be in place by Saturday.
"The appearance of any lists will doubtless have a very negative effect on bilateral Russian-American relations," President Putin's spokesman Dmitry Peskov told reporters.
Those affected by the American measures have had their US accounts frozen and have been added to a list of people who will be denied US entry visas. Some European nations are taking similar measures.
Mr Peskov said that despite Russia's unhappiness over the measures, co-operation between the two sides would continue, because there were "still numerous prospects for further development".
Correspondents say that the argument threatens to cast a shadow over a visit to Russia by President Obama's National Security adviser Tom Donilon, who is to hold high-level talks in Moscow on Monday.
The posthumous trial of Mr Magnitsky - who died aged 37 in pre-trial detention after developing pancreatitis - opened in Moscow in March but was adjourned shortly afterwards.
Legal experts say they are unaware of any precedents for the trial of a dead man in Russian history.