Italy experts present reforms in new coalition bid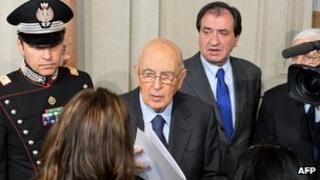 Experts appointed by Italy's president have presented reform proposals aimed at unblocking the political stalemate and leading to a new government.
The commission of "wise men" included members of the largest parties on the left and right of Italian politics.
They propose a smaller parliament and civil service, a new electoral law, a better system of tax collection and measures to stimulate the economy.
The election was in February, but no coalition deal has emerged yet.
President Giorgio Napolitano appointed 10 eminent figures and now they have submitted a reform plan to him.
The BBC's Alan Johnston in Rome says Mr Napolitano hopes all these ideas might form the basis for cross-party agreement.
He only has a few weeks left in office.
The "wise men" included a former head of the constitutional court, a member of the Bank of Italy's board and senior politicians.
Italy is mired in recession, with a massive debt burden, and needs to get investment flowing again to hard-hit small and medium-sized businesses.
The political establishment was rocked by the electoral success of a protest movement, Five Star, which won a quarter of the vote on a platform attacking the parties of both right and left.
Mario Monti's technocratic government, formed in November 2011, remains in office until a new coalition government is formed.