Savita Halappanavar: Hospital lawyers to dispute widower's claim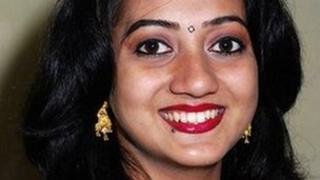 Staff from an Irish hospital where a woman died after a miscarriage will dispute claims that she was refused an abortion on religious grounds.
Lawyers acting for University Hospital Galway told an inquest into the death of Savita Halappanavar that they would strenuously dispute the story.
Her widower, Praveen Halappanavar, said she made three requests to doctors for a termination during her miscarriage.
He claims staff refused because Ireland is "a Catholic country".
Mrs Halappanavar, a 31-year-old dentist, died in October, several days after she had been admitted to University Hospital Galway suffering from back pain.
Foetal heartbeat
The story made headlines around the world and reignited the debate about the Republic of Ireland's abortion legislation.
On the opening day of her inquest on Monday, her tearful widower recounted details of some of the conversations they had with staff at the hospital during her final days.
Mr Halappanavar told the court that his wife made three separate requests for a termination, in front of a number of doctors.
He alleged that a consultant obstetrician, Dr Katherine Astbury, said she could not give his wife an abortion because Ireland was a Catholic country and there was still a foetal heartbeat.
However, lawyers for the hospital said Dr Astbury will strenuously dispute his allegations.
They said the consultant obstetrician maintains that there was only one conversation with Mrs Halappanavar about the possibility of a termination and that the discussion took place on 22 October.
Lawyers said Dr Astbury will tell the inquest that a termination was not warranted at that stage because Mrs Halappanavar's life was not under threat.
The doctor will also reject claims that she used the term Catholic Ireland, the court heard.
No representatives from the hospital have given evidence in person as yet, but they are expected to do so over the coming days.
Declan Buckley, acting for the hospital and the Republic's Health and Safety Executive (HSE) said there were differences between Mr Halappanavar's recollection of his wife's treatment and the hospital's record of the events.
'Deep upset'
In response, Mr Halappanavar told the inquest that there were "retrospective entries" made in the medical notes.
To date, 67 witness statement have been submitted to the inquest, which is being held in Galway.
The inquest can determine the cause of Mrs Halappanavar's death, but cannot apportion blame.
On Monday evening, University Hospital Galway released a statement to the media saying it had apologised to Mr Halappanavar and his family for the events related to his wife's care that contributed to her tragic, unexpected and untimely death.
The hospital statement said it had caused deep upset among hospital staff, particularly those who were directly involved in Mrs Halappanavar's care, who were saddened and shocked.
It said the distress of some of these staff members has been exacerbated by verbal and written abuse from members of the public and by the behaviour of a small section of the media.
The statement said Mrs Halappanavar's death was the first maternal fatality at the hospital in 17 years.