Margaret Thatcher: Irish Prime Minister Enda Kenny 'saddened' by death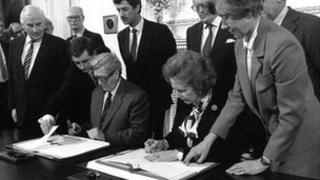 The Irish Prime Minister Enda Kenny has said he was "saddened" to learn of the death of the former UK Prime Minister, Baroness Thatcher.
He said she was a "formidable" leader who "defined an era" in UK public life.
The Taoiseach added Lady Thatcher's period of office came at a "challenging time for British-Irish relations".
He said the 1985 Anglo-Irish Agreement had "laid the foundation for improved north-south cooperation and ultimately the Good Friday Agreement".
Lady Thatcher signed the Anglo-Irish Agreement with a predecessor of Mr Kenny - the former Taoiseach, Garret FitzGerald.
'Significant impact'
The accord came during a turbulent period of violent political conflict in Northern Ireland.
She did so in an attempt to persuade the Irish government to improve its security co-operation and extradition arrangements with the UK.
However, the move outraged unionists as it gave the Irish Republic a consultative role in Northern Ireland.
It led to widespread street protests, the resignations of 15 unionist MPs and the 'Ulster Says No' campaign.
In a statement on Monday, Mr Kenny said that during her 11 years in Downing Street, Lady Thatcher had a "significant impact on British, European and world politics".
He added: "I extend my deepest sympathies to her family and the Prime Minister David Cameron."
Mr Kenny has led the Republic's Fine Gael/Labour coalition government since March 2011.