Ukrainian leader Yanukovych pardons Tymoshenko ally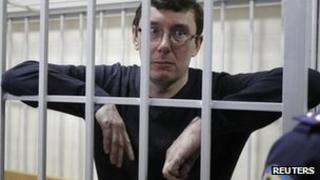 Ukrainian President Viktor Yanukovych has pardoned an ex-interior minister serving a four-year prison sentence for embezzlement and abuse of office.
Yuri Lutsenko was a close ally of former Prime Minister, Yulia Tymoshenko, who is herself serving a seven-year sentence for abuse of power.
A top EU official welcomed the pardon as a "first but important step".
Brussels has accused the Ukrainian authorities of deliberately prosecuting opponents of the president.
Writing on Twitter, EU enlargement commissioner Stefan Fuele said he welcomed the pardon "very much" and that it was a "first but important step to deal with selective justice".
A Ukrainian presidential statement said Mr Yanukovych had pardoned six people in order to "humanise legal norms and reduce the number of people held in custody".