Savita Halappanavar death: Inquest set to resume on Monday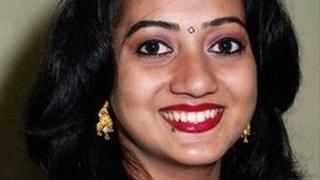 The inquest into the death of Savita Halappanavar, is to resume in Galway later.
Ms Halappanavar, 31, was 17 weeks pregnant and miscarrying when she was admitted to University Hospital Galway on 21 October last year.
Her husband, Praveen, has said that several times over a three-day period the family asked for the pregnancy to be terminated.
He said this was refused because there was still a foetal heartbeat.
He said that he was told: "This is a Catholic country."
Staff have denied that a Catholic ethos was responsible for the Indian dentist's treatment.
However, her death, a week after admission, put the spotlight on the Irish Republic's confused abortion laws.
The inquest, which resumes at Galway courthouse after a brief opening earlier this year, will determine the cause of death, but the coroner will not be able to apportion blame.
It is expected to last for more than a week and will be the first time that medical staff who looked after Mrs Halappanavar will give evidence under oath and in a public forum.
Praveen Halappanavar's legal team will question them about the actions they took and did not take.
As a result of leaks from the Health Service Executive's final draft report into the death, a great deal is already known about what happened.
It is known that blood tests were carried out on the day of admission; the results of which showed an elevated white cell count, a signal of suspected blood poisoning.
Those tests, it is suggested, were not followed up and there appears to have been confusion among staff as to who was responsible.
There also appears to be no record of her pulse, temperature and blood pressure being taken to test for possible infection on the Monday after her admission.
The leaks suggest there is just one recording of Praveen Halappanavar requesting an abortion but that it was turned down because there was still a foetal heartbeat.
On the Wednesday morning, probable sepsis was diagnosed; this progressed to septic shock and a potentially lethal drop in blood pressure because of the presence of bacteria in the blood.
The medical team then appeared to have discussed the possibility of an abortion, but Mrs Halappanavar miscarried in the afternoon.
On Thursday, Savita was transferred to the high dependency unit, but her condition continued to deteriorate and on Sunday at 12:45 GMT she died after a cardiac arrest, brought on by septicaemia and an E-coli infection.
Gerard O'Donnell, the Halappanavar family's solicitor, has said we know how Savita died and that what Praveen hopes the inquest will answer is why she died.
Legislation
The Indian dentist's death focussed attention on the Irish Republic's abortion laws and it is understood that some of the medical staff will argue the confused and confusing laws contributed to what happened.
At the moment, after a 1992 Supreme Court ruling, a pregnant woman can get an abortion if her life, as distinct from her health, is at risk because of the continued pregnancy.
And the credible threat of suicide is constitutionally regarded as grounds for a termination.
But no enacting legislation was ever introduced to give doctors legal certainty as to when an abortion can be carried out.
Successive governments have shied away from bringing in such a law, but the current Fine Gael-Labour coalition has promised to do so and has indicated that it hopes to have the legislation passed by the Dail's summer break.
When the Dail eventually starts to debate the measure, which is expected to include the credible threat of suicide as a grounds for an abortion, there will be a lot of focus on the Fine Gael parliamentary party.
A number of its TDs have said they support the position of the Catholic Church and anti-abortion pressure groups who argue that legislating for the suicide threat could lead to abortion on demand, something the government strongly denies will happen.