EU suspects state aid in football - Real Madrid studied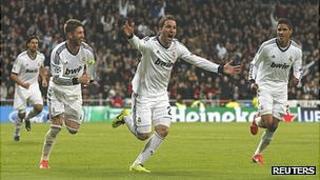 The EU is studying allegations that some top football clubs, including Real Madrid, have received state aid in violation of EU competition rules.
A European Commission spokesman said it was still too early to tell whether the evidence was strong enough to justify a formal investigation.
Last month the EU began examining five Dutch clubs, including PSV Eindhoven, over suspected state aid.
Now Real Madrid is under scrutiny too. Fines can be levied for rule-breaking.
In the 2011-2012 season Real Madrid was Europe's richest club in terms of income, the auditors Deloitte's reported in January.
A Commission spokesman, Antoine Colombani, told BBC News that "at this stage we are just analysing information which is available to us", confirming that Real Madrid was one of the clubs concerned.
Accusations have been made about a Real Madrid property deal. In the late 1990s the club bought a prime plot of land in Madrid from the city government. Thirteen years later the value of the land was estimated to be more than 50 times what Real Madrid had paid for it.
The suspicion is that the sale of the land at an underestimated price constituted illegal aid to the club, reports the BBC's Dejan Radojevic.
Real Madrid has denied receiving privileged treatment from the authorities. It suggested the land had gone up in value because of urban regeneration in Madrid and a general rise in the property market during that period.
Under new rules football clubs are banned from entering European competitions if they spend more than they earn.