Serbia-Kosovo talks fail to reach accord in Brussels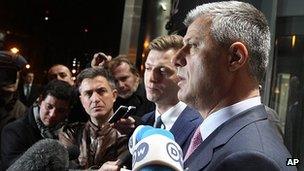 EU-mediated talks between Serbia and Kosovo have broken up without a deal.
Serbian Prime Minister Ivica Dacic said he had not been able to reach agreement with his Kosovo counterpart, Hashim Thaci, on normalising ties.
An EU official said talks in Brussels had attempted to resolve the status of Serb-dominated northern Kosovo.
Kosovo unilaterally declared independence in 2008. While many countries recognise it as an independent country, Serbia does not.
"Despite all these long meetings, we do not have an agreement at this moment," Mr Dacic told Serbian media.
Mr Thaci told reporters in Brussels that Kosovo had put forward proposals that would have integrated all citizens, including ethnic Serbs, into the life of Kosovo.
But he said the proposals were met with "hesitation" on the Serbian side.
He said he still hoped an agreement could be reached next week.
EU foreign affairs head Catherine Ashton, who chaired the talks, said the gap between the two sides was "very narrow, but deep".
She said it was the last formal meeting she would call between the parties.
"They will now both go back and consult with their colleagues in their capitals and will let me know in the next few days of their decision,'' her statement said.
"I wish them a good journey home and every possible success in reaching a conclusion."
Tension between Kosovo's ethnic Albanian majority and remaining ethnic Serbs has led to violence in recent years, notably along the northern border with Serbia.
Many ethnic Serbs living in northern Kosovo reject the authority of the Kosovo government in Pristina.
The EU plays a key supervisory role in Kosovo through its Eulex rule-of-law mission while soldiers from EU states are deployed as part of the K-For peacekeeping mission.
Serbia must normalise relations with its neighbours before it can join the European Union.