Savita Halappanavar death: Report finds over-emphasis on foetus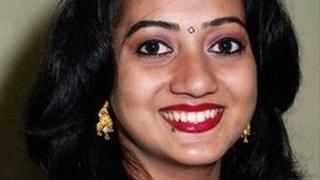 The draft report on the death of Savita Halappanavar has found an over-emphasis by medical staff on the welfare of the foetus, which was unviable, a solicitor for her widower Praveen has said.
Mrs Halappanavar, an Indian dentist living in Galway, was admitted to University Hospital Galway last October while miscarrying.
The 31-year-old was 17 weeks pregnant.
Solicitor Gerard O'Donnell said the report found not enough emphasis had been put on Mrs Halappanavar's health.
Mr Halappanaver, who like his wife is a Hindu, has said that several times over a three-day period the family asked for the pregnancy to be terminated.
But, he said, this was refused because there was still a foetal heartbeat and they were told "this is a Catholic country."
Staff have denied that a "Catholic ethos" was responsible for the Indian dentist's treatment.
She died of septicaemia, or blood poisoning, and e-coli on 28 October 2012.
International protests
The case, which led to nationwide and international protests and drew attention to the Republic's abortion laws, resulted in a number of enquiries being set up.
Possibly the most important is that of the Irish Republic's Health Service Executive, the HSE, even though Mr Hallappanavar, who sought a full public inquiry, opted not to co-operate with its investigation.
The final HSE draft report was given to Praveen Halappanavar and his solicitor, Gerard O'Donnell last week.
Speaking on RTE radio Mr O'Donnell said Mrs Halappanavar's widower is trying to get the truth of the matter.
He said: "We know what happened but not why it happened".
He added that he wants to know why there was not an early intervention in terms of a termination of the pregnancy.
Mr O'Donnell said he, along with a family friend who was present on the Saturday that Mrs Halappanavar died, will meet the chairman of the HSE inquiry team later this week but that Praveen Halappanavar would not be there.
Next week, the inquest into Savita Halappanavar's death will resume in Galway after briefly opening earlier this year.
It is expected to last over a week and will be the first time that medical staff who looked after Mrs Halappanavar will give evidence under oath and in a public forum.
While the inquest will determine the cause of death, which is already known, it will not be able to apportion blame.