French criticise 'DIY' President Hollande over economy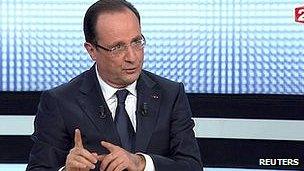 French President Francois Hollande has been labelled a "do-it-yourself man" by critics after he tried to assure the nation that "all the tools are on the table" to fix the ailing economy.
The leftist newspapers Liberation and L'Humanite joined a chorus of criticism after Mr Hollande's TV interview.
The socialist president said firms would be subject to a 75% payroll tax on salaries above 1m euros (£845,000).
An attempt to impose the 75% rate on rich individuals was blocked earlier.
In December France's constitutional council struck down the new 75% tax rate introduced by Mr Hollande. The objection was that the tax applied to individuals rather than households.
Film star Gerard Depardieu, no longer living in France, is among a number of prominent figures who have condemned the tax. Some football clubs have warned that France may fail to attract top talent, if players can earn higher salaries elsewhere.
The head of France's main business lobby group Medef, Laurence Parisot, condemned Mr Hollande's new announcement on the 75% rate, saying it was an "anti-business signal" and a "do-it-yourself" policy.
She told France Info radio she did not understand's Mr Hollande's "philosophical principle", adding that his switch from taxing rich individuals to taxing firms was "quite strange".
"What will happen with the richest French who don't work in companies - artists, people in independent professions?"
Finance Minister Pierre Moscovici defended the president, saying it was "a tax on behaviour" aimed at changing companies' pay awards.
Mr Hollande himself said that at a time when ordinary workers were struggling, high earners could "make this effort for two years".
Mr Hollande, elected last May, has seen his opinion ratings slump this year as the economy remains stagnant and the unemployment rate has risen to 10.6%.
He vowed to bring the budget deficit down to 3% from its current 4.5%, but that target will be missed.
An editorial in Liberation on Friday said Mr Hollande's interview on France 2 television had disappointed "the many who wanted more than a puff - but rather a blast of anger" over economic hardship and the distress felt by society's most vulnerable people.
Mr Hollande's performance was "often bland, almost banal", the editorial by Eric Decouty said.
Meanwhile L'Humanite commented that Mr Hollande "did not indicate the slightest flexibility in his political course" despite strong disapproval among left-wing voters.