Putin orders surprise Black Sea military exercises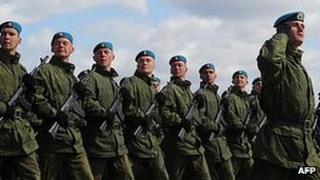 Russian President Vladimir Putin has ordered surprise military exercises in the Black Sea region, to test the armed forces' battle readiness.
The president's spokesman said the exercises would involve 36 ships and up to 7,000 troops.
He added that Russia was not obliged to give warning of exercises involving fewer than 7,000 personnel.
Russia moved to reform its military after the 2008 war with Georgia showed up weaknesses.