Toulouse killings: French soldier held in Merah case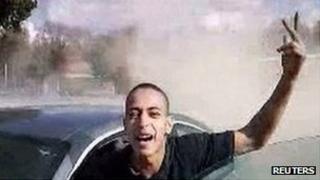 A French soldier has been arrested in connection with the shootings carried out by Islamist militant gunman Mohamed Merah in Toulouse a year ago.
The soldier was held at his barracks in Castres, police sources said.
Two more people had been arrested for questioning late on Tuesday, as police continue their hunt for accomplices.
Merah carried out three deadly attacks between 11 and 19 March 2012, killing seven people before being shot dead during a police siege of his flat.
Merah killed three paratroopers, and then an adult and three children at a Jewish school.
Hollande vow
A judicial source said the soldier arrested had known Merah but gave no more details.
Agnes Thibault Lecuivre, of the prosecutor's office, said one of the arrests on Tuesday had taken place in Toulouse's Les Izards district, where Merah lived as a child.
Since the attacks, police and security forces have continued to investigate the possibility of accomplices.
However, only Merah's brother has been charged. He was detained last year and continues to deny any involvement.
The arrests come just 10 days after President Francois Hollande attended a service to mark the anniversary of the killings.
He said France was tightening its intelligence gathering to prevent further such attacks.
Mr Hollande said the fight against terrorism "allows for no easing off, no weakness and no negligence".
French intelligence had been monitoring Merah as a suspected Islamist militant following trips he made to Pakistan and Afghanistan.
He reportedly told negotiators during the siege he was a member of al-Qaeda.
According to French prosecutors, he expressed no regrets other than "not having claimed more victims" and was proud of having "brought France to its knees".
He said he had been motivated by the fate of the Palestinians, the French military presence in Afghanistan and France's ban on the full veil.