EU backs Croatia to join in July as 28th member state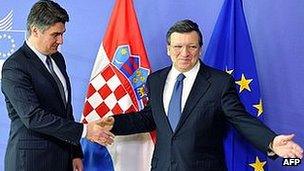 The European Commission has given Croatia the green light to join the EU on 1 July as the 28th member state.
Croatia's accession can go ahead once all 27 have ratified the agreement - and 19 states have done that so far.
A Commission monitoring report says Croatia must take further action to tackle organised crime and corruption.
Croatia is set to become the first country to join since Bulgaria and Romania did so in 2007. Croatia has spent 10 years negotiating EU entry.
"We are confident that Croatia will be ready to join the EU on 1 July 2013," EU Enlargement Commissioner Stefan Fuele said after talks in the Croatian capital Zagreb on Tuesday.
"This report is a clean bill of health." But he warned Croatia against complacency.
"EU membership is an additional incentive to carry on with reforms. Croatia is expected to continue developing its track record in the field of the rule of law, notably in the fight against corruption," he said.
Mr Fuele praised Croatia's delivery on various EU requirements, calling it "a good example for the rest of the region as it moves closer to the EU".
The Commission report noted Croatian progress in areas such as anti-trust, mergers and state aid, including privatisation of shipyards.
But it also highlighted judicial and human rights areas requiring further work to meet EU standards.
In the fight against organised crime "the level of sentences remains low" it said, regretting that that was also the case in corruption cases, where "very often suspended sentences are pronounced".
It called for "effective and dissuasive" sentences in such cases to deter would-be criminals, including bigger asset seizures by the authorities.
"Croatia needs to ensure that a strong mechanism is in place to prevent corruption in state-owned companies," it said.
On borders and migration, the report noted Croatia's recruitment of new border police officers. It also called for further action - including specialised training - to prevent human trafficking, noting that "the low number of identified victims of human trafficking is a point of concern".
Croatia's co-operation with the UN war crimes tribunal in The Hague has been under close scrutiny.
The report welcomed a Croatian court ruling in January granting compensation to the children of Serbs killed in a village - Varivode - during the war in former Yugoslavia in the 1990s. That ruling in Knin had "addressed for the first time a long-standing grievance", the report said, adding that the compensation issue should now be "systematically tackled".