Runaway lorry travels 10km on German motorway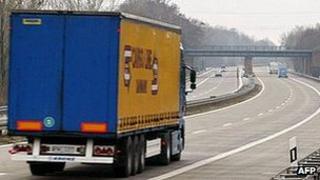 A heavy goods lorry careered along a German motorway for 10km (six miles) with an unconscious driver at the wheel, but nobody was hurt, police say.
The lorry gradually lost speed, after hitting the central barrier several times, and halted at a service station "by chance", police told BBC News.
The incident happened on Wednesday near Sinsheim, in southwestern Germany.
Police barred some traffic lanes. The Czech driver is now gravely ill in hospital with suspected heart trouble.
Debris was left strewn along the A6 motorway, as the 40-tonne lorry collided with the central barrier.
Eventually it ploughed into an earth bank outside the service station.
The 48-year-old driver of the Czech-registered lorry had collapsed at the wheel, Heidelberg police said, without giving details of his medical complaint.