New EU farm subsidy plan criticised by green groups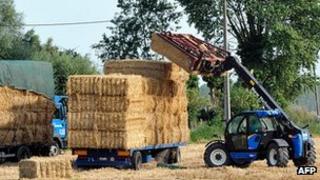 Farmers will be paid twice by taxpayers for the same work if Europe's farm ministers get their way over subsidies.
Ministers have backed double payments for environmental activities – even though the EU Commission and MEPs warn this would be wasteful and illegal.
They also watered down the Commission's plan to oblige farmers to deliver some public benefit for their 58bn-euro (£50bn; $75bn) annual subsidies.
The Irish EU presidency praised the outcome. But green groups are outraged.
The issue will come to a head when representatives of EU governments on the Council come together with the Commission and European Parliament on 11 April to begin forming a joint position.
Reform of the Common Agricultural Policy (CAP) reform is complex - but the Commission originally proposed that Europe should start to untie itself from the history of farm subsidies by steadily removing hand-outs currently given for little more than owning land.
Farmers get around 200 euros (£170) of taxpayers' money per hectare.
'Flexibility' on eco-measures
Radical voices in the Commission wanted all subsidies for land-owning removed, but more cautious heads thought it politically impossible to tie more than 30% of grants to environmental activities that promote wildlife.
In the end even that proved too strong for many member states whose farmers benefit from current arrangements.
Negotiations in the Council went into marathon session, and the ministers insisted on "flexibility" in meeting that 30% target.
Irish Agriculture Minister Simon Coveney said "it is difficult to overestimate the scale of today's achievement, given the range and complexity of issues which have had to be addressed by member states.
"It has proved possible thanks to the determined commitment of my colleagues to reach an agreement, which has been matched by their readiness to compromise on what for them have been extremely sensitive issues."
For environmentalists that agreement is barely worth having. They considered the Commission's original proposal far too weak and against the public interest.
They saw that position first watered down by MEPs, then further hollowed out by member states. They are especially angry at the ministers' proposal to pay farmers twice from separate budgets for "greening" activities and their refusal to withdraw grants from farmers who break countryside laws, such as those on pesticides.
Reforms 'meaningless'
The UK voted against the proposed double payments. Environment Secretary Owen Paterson said: "I'm pressing for further progress towards an open market that makes farmers less dependent on subsidies."
But the majority of ministers wanted as little change as possible.
The Commission proposed that farmers should receive a "greening" payment if they keep pastureland unploughed, diversify crops and allow special Ecological Focus Areas (EFAs). The ministers agreed that EFAs should account for just 5% of farmland - and that will be kept under review.
The Commission's agriculture spokesman Roger Waite expressed relief that the reform plans were still on track. He said on Twitter "[I am] pleased that this deal allows us [to] enter final phase towards fairer, greener, more understandable, more reactive CAP."
But environment groups said the Council's decisions had left the "greening" reforms meaningless by agreeing exemptions that would allow farmers to claim the payments by doing little or nothing different.
Faustine Defossez from the European Environment Bureau said of the double payments proposal: "At a time when austerity prevails throughout Europe, it is extraordinary that the Council seems to have no shame in endorsing paying farmers twice for the same measure. Continuing down this path will surely spell the end of public support for funding European agriculture."
Trees Robijns, a campaigner from BirdLife Europe, said: "It is incredible that in times of austerity, agriculture ministers are ready to stand up for double subsidies and for paying people who break the law. How can this be justified to taxpayers?"
Follow Roger on Twitter