Russian press suspicious of Cyprus rescue plan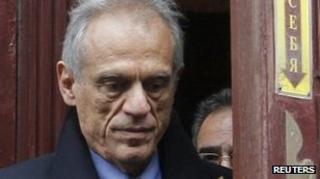 Newspapers in Russia are fuming at the controversial Cyprus bailout plan. Commentators argue it aims to confiscate billions in Russian money kept in Cypriot banks, even if much of it is of dubious origin.
One article says the plan amounts to a "fight for dirty money", while another calls it "an undisguised act of expropriation".
Estimates say that about one third to a half of all Cyprus bank deposits are of Russian origin.
"Robbing depositors"
Writing in liberal Novaya Gazeta, prominent commentator Yulia Latynina accuses the EU of "robbing depositors in Cypriot banks of $2bn".
"I have no doubts about the reasons for the EU's intention to rob Cypriot depositors," she says. "There is a lot of dirty money (mostly Russian) in Cyprus, and European banks want to have this money for themselves."
"This is not a fight against dirty money, it is a fight for dirty money," the commentator believes.
Kommersant, an influential business daily, takes a grim view of the situation. "There is no doubt that Russian companies will suffer the most in Cyprus," it says. "The Russian authorities are making very belated and now practically useless efforts to take the situation back under control." According to the paper, the main threat is not the proposed 9.9% tax on savings, but possible restrictions on transactions with Cyprus.
"Russian salvation"
Vedomosti, another heavyweight business daily, appears more upbeat, suggesting that Russia holds the keys to resolving the Cyprus crisis. Under the headline, "Cyprus is seeking Russian salvation", it says Moscow is waiting for Nicosia to offer gas exploration rights in exchange for financial aid.
In contrast to widely-reported concerns about the fate of Russian money held in Cyprus, the paper quotes an unnamed Russian government official as saying that none of Russia's big businessmen have asked for help. Most of them prefer to keep their money in "safer" countries such as Switzerland or the UK, it said.
The government's Rossiyskaya Gazeta daily echoes Vedomosti's sentiment, running a headline, "The Cypriots are grateful to Russia for salvation". According to the state-run paper, as Cypriot MPs rejected the savings tax on 19 March, demonstrators outside parliament waved Russian flags, saying "Russia has rescued us".
"Financial hara-kiri"
Izvestiya, a pro-government daily, is sharply critical of the EU's recipe for resolving the crisis in Cyprus. "The financial 'hara-kiri' is robbing Cyprus of its future," it says. Instead, Izvestiya argues, the country should open itself to closer ties with Russia.
"Cyprus' salvation is simple: Russian money in exchange for close integration," Izvestiya says. "The capital that has fled to Cyprus can only be rescued (and also returned) together with Cyprus itself, by incorporating it into our economic system."
The daily also suggests that, as "Russia's financial kidney", the country's banking system also performs the useful function of dealing with money of dubious origin.
"Expropriation"
The sensitive subject is also brought up by Trud, a left-leaning daily. Describing Moscow's efforts to protect Russian money in Cyprus as "panicky", the paper says that many of its owners would have trouble proving it had been earned legally.
"Considering that most of the funds transferred to Cyprus are dodgy, their owners understand perfectly well that should their assets be frozen, it will be quite problematic for them to defend themselves in court," Trud says.
The tabloid Moskovskiy Komsomolets is deeply suspicious of the proposed way of handling the Cypriot crisis. "A special operation is in progress in Cyprus, and its goal is far from saving the economy or the banking system," the paper says.
Its real objective, according to the paper, is seizing Russian money kept in Cyprus.
"This is an undisguised act of expropriation, in other words something from the arsenal of the Bolshevik class struggle, but not civilised economic policy," Moskovskiy Komsomolets believes.
BBC Monitoring reports and analyses news from TV, radio, web and print media around the world. For more reports from BBC Monitoring, click here. You can follow BBC Monitoring on Twitter and Facebook.