France budget minister Cahuzac resigns over tax probe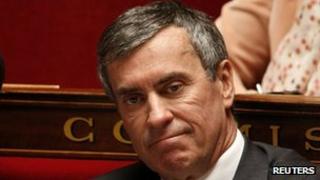 France's Budget Minister Jerome Cahuzac has resigned after an investigation was launched into alleged tax fraud.
Mr Cahuzac has denied any wrongdoing following a report by an investigative website that he had an undeclared Swiss bank account until 2010.
He was to be replaced by the Europe Minister Bernard Cazeneuve, said a statement from the president's office.
Mr Cahuzac gained a reputation as a vocal crusader against the use of overseas tax havens.
On Tuesday, prosecutors announced a full investigation into the Swiss bank account that the minister allegedly used to hide assets from the tax authorities.
But investigators said they had not turned up enough evidence to charge him by name.
The website, Mediapart, said it had a recording of a phone conversation between Mr Cahuzac and one of his aides in which the minister allegedly expressed concern about the UBS account which was reportedly used to siphon funds to Singapore.
He has dismissed the reports as "crazy claims" and launched a defamation suit against Mediapart.
"I have never had an account in Switzerland or any other place abroad," said Mr Cahuzac in December.