Key EU figures Van Rompuy and Ashton to quit in 2014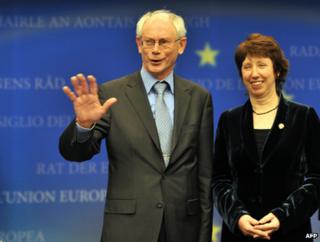 Two of the EU's top officials, Herman Van Rompuy and Catherine Ashton, have announced that they are to stand down at the end of 2014.
Mr Van Rompuy, 65, chairs summits and steers strategy for the EU. The former Belgian prime minister said his "run in politics" would end next December.
Baroness Ashton, the UK Labour peer who directs EU foreign policy, said it was time to hand over to someone new.
Both officials took office in 2009 after the posts were expanded.
Mr Van Rompuy was elected president of the European Council, and Baroness Ashton was appointed high representative for foreign affairs and security policy.
Before the 2007 Treaty of Lisbon, Mr Van Rompuy's post had been rotated and EU foreign policy had been split between two officials.
A new European External Action Service was also set up to assist Baroness Ashton and future high representatives in their work.
'Foundations laid'
Mr Rompuy will have served two terms as president of the European Council: first elected by the Council in 2009, he was re-elected in 2012. His latest mandate expires on 1 December next year.
Speaking on Belgian VRT television on Sunday night, the veteran Flemish Christian Democrat politician said: "From December 2014 it's the end of my run in politics."
He would not be campaigning in the 2014 Belgian elections, he said, adding: "I have family members on the list and they have all sorts of possibilities."
Speaking to the German Marshall Fund, Baroness Ashton, 56, said: "There's no possibility of having a second term and it needs to go to someone else next...
"In any event, you lay the foundations but there are people who can do things with this that probably I couldn't do, so it'll be good to hand it over."