Impasse as Italy's new parliament meets for first time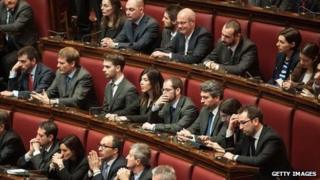 The new Italian parliament has met for the first time since inconclusive elections, with parties deadlocked over the formation of a new government.
Members in both the lower house and the Senate failed in their first attempts to elect speakers.
Efforts by centre-left leader Pier Luigi Bersani to forge a political agreement with the anti-establishment Beppe Grillo have so far been rebuffed.
If the parties fail to bridge their differences, new polls may be needed.
Nearly three weeks after the election, there are fears that continuing political uncertainty could sap confidence and push Italy's borrowing costs back to danger levels.
'Black smoke'
President Giorgio Napolitano will begin formal consultations with party leaders next week to explore coalition options.
But the votes for speaker on Friday suggested the parties were still a long way apart.
Italian media compared it with the papal election, reporting "black smoke" from both chambers, indicating those inside had failed to decide on a leader.
Acting Senate president Emilio Colombo told his chamber that stalemate "could bring us to institutional paralysis, with dramatic consequences on... the great social and economic problems that torment us".
While Mr Bersani's narrow victory in the election guaranteed him an automatic majority in the lower house, he cannot govern without control of the Senate too.
He does not have a majority in the Senate and is therefore dependent on the support of other parties.
He has ruled out working with Silvio Berlusconi, the former prime minister and head of the centre-right People of Freedom party, which came second.
But his approaches to Mr Grillo appear so far to have fallen on deaf ears.
Mr Grillo's Five-Star Movement (M5S) brings some 163 new members to the house and Senate, none of whom have served in parliament before.
They have changed the demographics of parliament quite dramatically, being much younger, on average, than many of their counterparts.
A lot of them are women - raising the proportion to around 31%, from 20% previously.
In appearance the M5S MPs did not differ from their more establishment colleagues, attending parliament in sober suits and ties.